So how old do you think America is? Well, if you are counting from the founding of the Jamestown settlement, America is celebrating her 400th Anniversary in 2007. To celebrate, the folks at Jamestown are celebrating in a big way, including a tour of a replica of the Godspeed, one of the three ships which carried the first settlers in Jamestwon. The Godspeed's first stop is in Alexandria, VA and she is here until June 3rd. We can see her docked as we walk along the Potomac and decided to brave the Memorial Day crowds, heat and humidity to go for a tour.
First, we got a brief tour of Old Town Alexandria on our way there. I have only seen parts of it before, but I really want to get back again. We'll have to find a way to leave the older children behind. I don't think they will be happy with just walking and looking. Well, we found parking nearby and then walked to the river. One of the first things we saw was the paddle wheel boat, the Cherry Blossom, which we often see sailing by our house or as we walk along the Potomac. Pumpkin Girl thinks it looks like a big birthday cake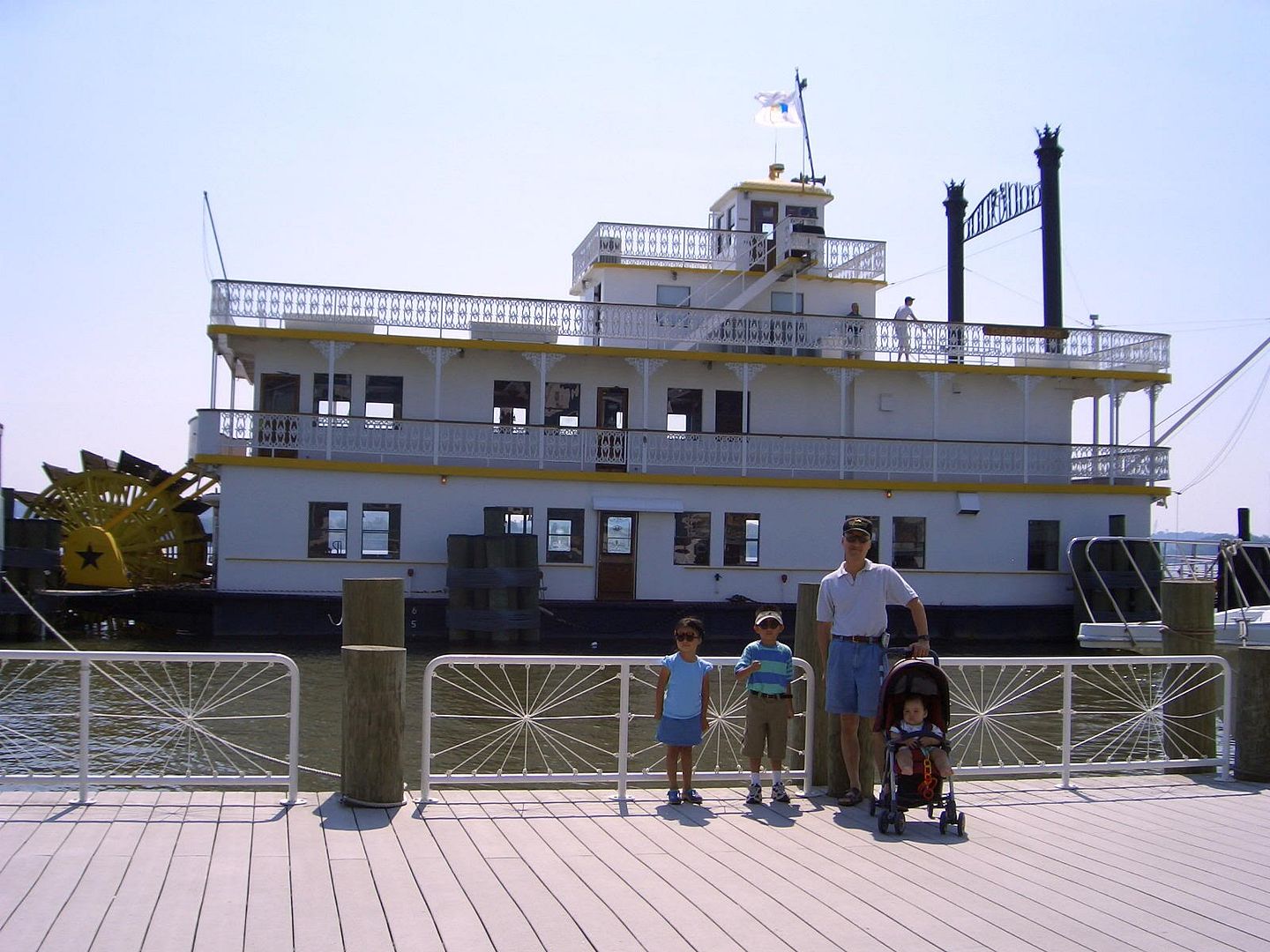 Then we worked our way to the Godspeed. We had planned to arrive around 10:30, which we did, and it was 10:45 when we found the Godspeed. The tours were scheduled to begin at 11:00, and the line was already huge! The wait was 1 1/2 hours from where we were. Yikes. Fortunately we were all covered up in sunscreen and we had water and sunglasses. There were also some activities set up and Phil and I took turns taking the children to see the exhibits. Once the tours started, the line moved right along and we were in the shade most of the time. While we waited, I gave the children a quick, impromptu lesson in American History.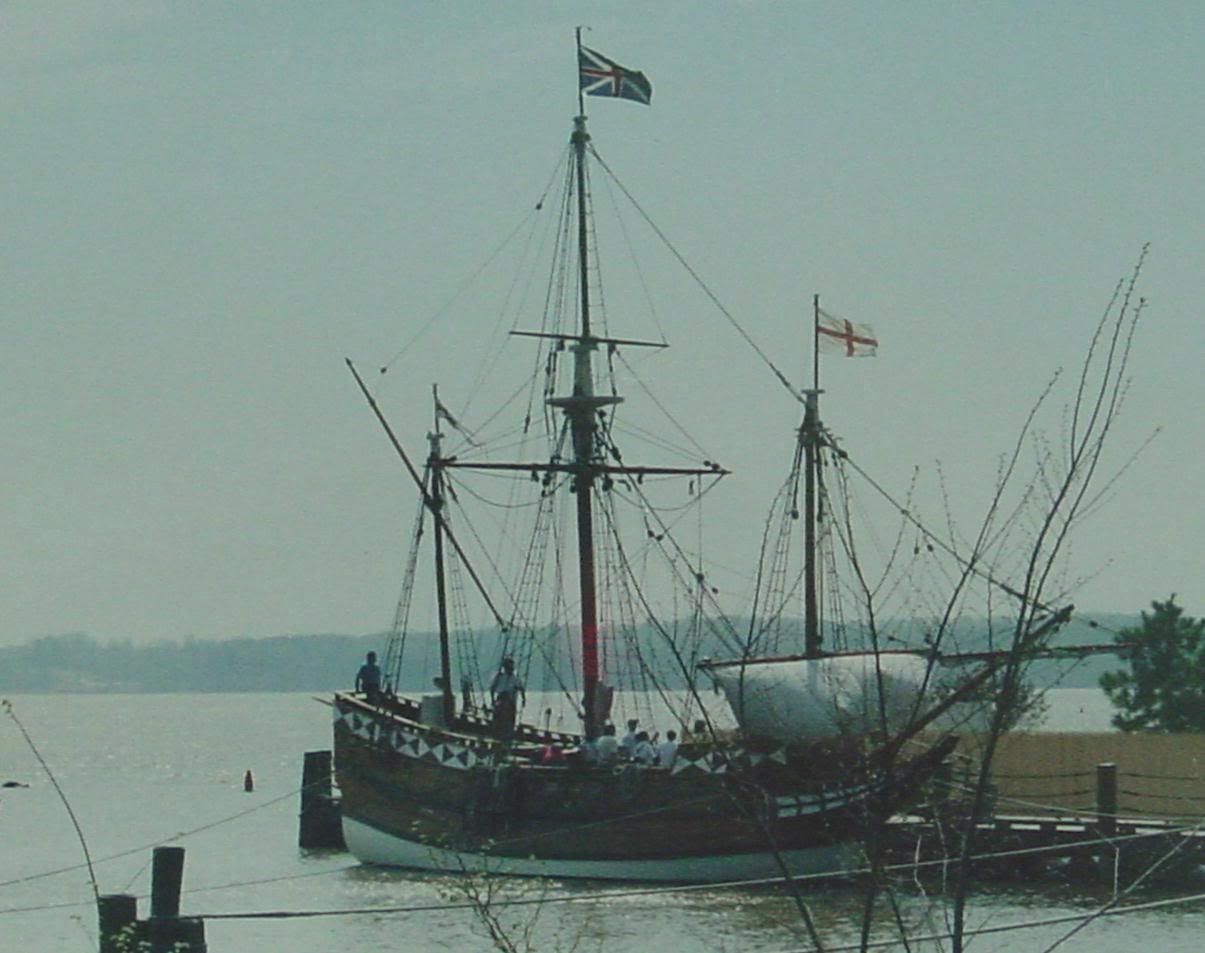 Can you imagine crossing the Atlantic in such a small ship, in the middle of the winter? The trip took around 160 days.
The Godspeed and the other two ships that made the trip are shown on the Virginia State Quarter.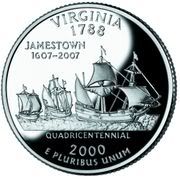 After a tour of the ship and some of the interactive displays on land, we headed off to lunch. We all perked up a bit in the air conditioning and treated ourselves to some ice cream and frozen yogurt. I let Bip taste my frozen yogurt, which he really enjoyed. He was so sweet, opening his mouth like a little bird for his next bite.The Godspeed will be stopping along the Atlantic coast for the next couple of months. If you get a chance to see her, you should. The price is right – free! If you go, here's some things to know:
Go early and get in line right away. Find a volunteer with an event map and a schedule of events. There is a lot of entertainment, so you can go check them out while someone in your party waits in line.
Bring 2 cell phones or 2-way radios in case you get separated. Don't ask how I know this.
There is no way for a stroller or wheelchair to get on board. The steps onto the ship and on board are steep. You will have to leave the stroller on shore. I have no idea how they accomodate wheelchairs.
Have a quick American History lesson before you go. Just reading about Jamestown will be enough, or even just watching "Pochantas" if you have younger children, will help set the stage.
Have I mentioned how much I really enjoy living in Washington, DC?

Print Friendly
More Mac and Cheese, please!