Swimming lessons are over and they were a great success! The last few days were tough on the moms though, because it was already 80+ degrees when we got to the pool at 9am. Add in the humidity and it was brutal! I had Philip stay home with Bip the last two days. It was just too much for the baby.
The children were both in the Level 1 class which was designed to get them comfortable with being in the water. I would like to move Boo on to Level 2, but the classes are all booked. I'll look for more lessons elsewhere over the winter, once soccer has ended. When lessons started both children were worried about swimming. Pumpkin Girl wouldn't put her head under water and Boo would only put his chin in. They started in the 2-3 foot junior pool and by the end of the 2 week session, were in the regular pool with life jackets.
The instructor had them taking off their life jackets one at a time and she helped them to swim across the pool. Sometimes she would let go of them to see how they did on their own. When she did it to Boo, he said he used his "freak out moves" to help keep him up. They also went down the waterslides several times until it was no big deal. Then on the last day, right at the end of class, they went off the diving board! Pumpkin Girl went first…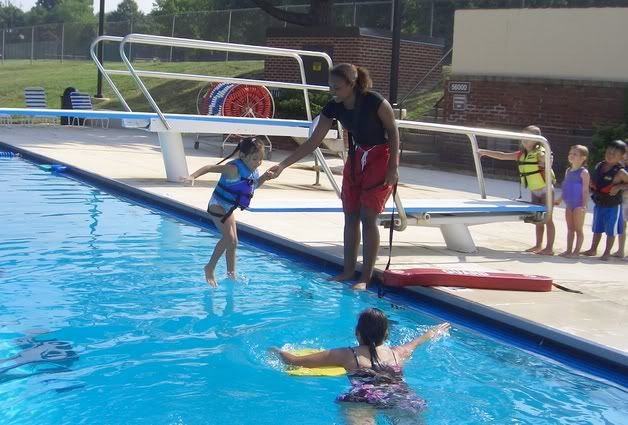 Then Boo…
Overall a great experience!

Print Friendly
More Mac and Cheese, please!