Today was the first meeting of my Catholic homeschool group. I was in charge of crafts for the kids. I didn't mean to volunteer, actually. We were discussing celebrating the Blessed Mother's birthday this month and someone said we could have a birthday cake and maybe the kids could decorate candles. Then suddenly, it was like a dream and I left my body and could see myself talking, but was powerless to stop myself. I started describing this cute "candle boat" we could make that would slip over a votive candle. Well, once I put that out there, there was no taking it back and I was the Craft Lady for September. This was less than 2 weeks ago.
I don't fly by the seat of pants well at all. I have to plan out every little detail. I can wing it once I've planned it, as long as I know what I'm supposed to be doing and how to get there. So I stressed about this all week. Monday I went to find my vellum paper. I had 5 sheets left. I needed one for each child and was anticipating 10 to 20 children. Then I showed a picture of the project to my online stamping buddies. They all said, "whoa! That's way too complicated! Try something else." Unfortunately, I had already emailed a picture of the project to my homeschooling group. So Tuesday comes along and I'm doped up on Benedryl from the mosquito bites I got outside the American History Musuem. I must take Benedryl for about a day before I can switch to Claritin or the bites will swell up to about 3 inches in diameter. I can't find Pumpkin Girl's math worksheets, about half a year's worth. I lost my lesson plans for next week. My stamping buddies say my project is too ambitious. I don't have enough vellum and I'm too loopy to drive to get more. I have 3 days to modify the project to be more realistic.
Then Phil came home for lunch. I listed all my woes to him and he says the magic words: "Do you want me to take you to Michael's right now?" I love that man. I really do.
So we go off to Michael's. Now, I haven't been to a Michaels' craft store in about 3 years. We lived in Korea for 2 years, then with a new baby and trying to unpack, just never got around to it. I was in there 10 minutes and spent $80.
Anyway, I spent the next couple of days preparing the craft. It didn't take me long at all. About an hour, in total, to stamp and cut the paper.
This is what we made: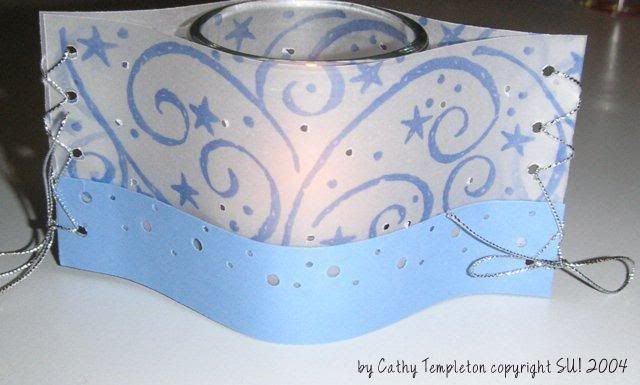 The children really enjoyed it. I let the kids get creative with the blue pieces of cardstock. I brought punches, decorative scissors and markers and let them go to town. That was just the right level of involvement for them. The rest was just gluing and tying the cords. They were a big hit with the moms, too.
So, all's well that end's well. But I don't think I'll be volunteering to be the craft lady again this year.

Print Friendly
More Mac and Cheese, please!