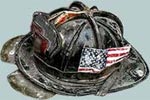 I'm just an average American. Nothing too special about me, really. I went to college, got married, had a few children. I'd like a bigger house. Someday my husband will retire, not just from the Army, but from working. Maybe we'll do some traveling. He'd like to own an RV and roam around the country. We'll see.We're not that different from you or most Americans. We have our nice, quiet lives. For the most part, we're content.
We remember a day just five years ago, when like most Americans, our day started out pretty ordinary. My husband went off to work, I got the children up and dressed. They were little then, just 2 years old and 8 months. The other two were still only in our dreams. Nothing too extraordinary. It was a mild, late summer day. A slight breeze. Pretty close to perfect.
Robert Parro was ending his shift as a firefighter with Manhattan's Battalion 8 that morning. He was getting ready to head back home to his wife, Karen and their son, John, then 4 years old. He'd been a firefighter for eight years and according to his wife, "loved it." His mother Virginia said he was "born to be a firefighter." I don't imagine that he thought of himself as a hero. He would probably have described himself as just an average guy.
Just like you and me.
I'm sure he had dreams of his own. More children, perhaps. Growing old with his wife. Maybe he wanted an RV, too. Maybe she smiled indulgently at him and said, "Sure, honey." Maybe they were saving for a vacation. Just your average Americans. The guy next door.
But on that morning of September 11, 2001, as Robert Parro was wrapping up his shift, the alarm sounded. He called his wife to let her know that he was on his way to the fire. She never heard from him again.
We may never know how many lives Robert Parro saved before he lost his.
Let us not forget that the people who lost their lives on this day five years ago were people just like you and me. They had families, and hopes and dreams and lives worth living. Let us honor them today by remembering not that they died, but that they lived.

For more tributes to the 2,996 victims of September 11, click here.

Print Friendly
More Mac and Cheese, please!