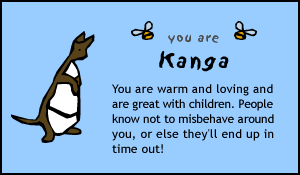 Take the 100 Acre Personality Quiz!
I'm not surprised, especially because Kangas are known as one of the fiercer animals. She also carries her family around in her pouch and likes to do motherly things. Yep, I must be a Kanga. Have fun with the quiz above, then check here –
Winnie The Pooh Characters
– for more descriptions of your character. And be sure to leave me a comment and tell me which character you are!

Print Friendly
More Mac and Cheese, please!