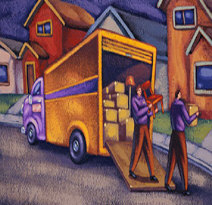 It's moving season. From Memorial Day to Labor Day, military families are packing up and moving on to their next assignments. Moving vans line the streets and on trash day, the curbs are piled with all sorts of potential treasures. Both houses on either side of us are empty, and a week from today Boo's best friend will be gone.
It's one of the disadvantages to the military life. We make friends with people for such a short amount of time. Our lives become entwined for a year or two and then we move on.
I remember reading once about the life of the military wife. "We work on projects that we will never see completed. We plant flowers that we will never see bloom." It's the hope that keeps us going.
When we are the ones moving, the stress and anxiety help keep the feelings of sadness at bay. We are worried about getting the house ready for the movers and stressed over the last minute details of picking up medical records and finding all the house keys. We wonder what sorts of things will get broken this time around and as the moving van pulls away, we hope that we really will see all of our earthly possessions again. Then we've still got to clean moving debris from the house, finish all the paper work and try to get to bed early before hitting the road the next morning. When we are the ones moving, there isn't a lot of time to be sad.
When we are the ones staying, it's a different story. We watch our friends packing out and we take their household cleaners and refrigerated foods that they could not take with them. Maybe we have a neighborhood barbeque to say goodbye and then just like that- they are gone. Most likely, we will never see them again.
Boo's best friend and his family have already moved to the on-base hotel. There won't be anymore Jedi training or drenching water gun fights. No hopeful little boy's face trying to peer through my sidelight window, wondering if Boo can play. It'll be hard for Boo to be the one left behind this time. My Mama-Heart will ache for him and I'm sure many an evening prayer will be said, asking God to send him another good friend into our neighborhood.
Yes, it's moving season again. Time for empty houses where friends used to live, waiting in hopeful anticipation for new friends to move in.

Print Friendly
More Mac and Cheese, please!