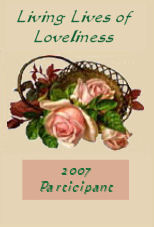 The Loveliness of Clearing the Clutter will be hosted here on August 6th. If you'd like to participate, just write a post to your blog about clearing out the clutter. I'd like to receive entries by August 4th. Email the link to your specific post to justlorri at gmail dot com. Make sure you get both r's in my name. You can also leave a link in the comments of this post. Either way, I'll email you back to confirm that I got it. If you don't hear back from me by August 5th, then I probably didn't get it.
If you don't have a blog, but you have some before and after pictures that you'd like to contribute, you can email those to me and I'll include them in the Fair.
Please feel free to spread the word about this Fair – the more the merrier! The only restrictions are that your post is Rated G and that it does relate to the theme. Please email me with any questions.
Also, the Loveliness of the Seashore Fair is up at A Wink and A Smile. Grab yourself some ice tea and go check it out!
And just for the record, here are the remaining summer Loveliness Fairs:
Summer Gardens August 13 (Ruth will be your hostess)

"Back-to-School" Supplies and Lesson Plans August 20 (Kim will be your hostess)

Summer Vacations August 27 (Cindy will be your hostess)
*Edited to add – All comments on my blog that contain links automatically get held for moderation.  Don't worry if your comment doesn't immediately appear, I will see it and approve it!

Print Friendly
More Mac and Cheese, please!