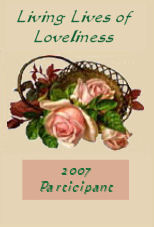 Clutter. Most of us have it. We all hate it. Clutter is a thief that robs of us our peace of mind, our self respect, time with our family and friends, and the enjoyment of our homes. Clutter is just bad.
So what happens when we clear the clutter?
Well to start with, Amy at Between Daydreams shows us some of her newly cleared out spaces and gives us a list of the benefits of decluttering, including having space for more children!
Elizabeth at Frabjous Days is also decluttering in preparation for a new baby. She recently discovered an amazing gift while sorting through old photos.
Divina at The Bean Sprout takes her inspiration from one of my favorite shows, Clean Sweep, and takes a crowded office space and turns it into her favorite room of the house, complete with a reading nook!
Cheryl at My Thoughtful Spot prepares for a new school year by reclaiming her school room closet. Wait until you see the great space she's created! She's got some good advice on handling the clutter, too.
Suzanne at Gladdest Hours has been doing some major purging and organizing all over her house this summer. During the process her children made a very insightful observation. I think it's great that she had involved her children in decluttering and they've really gotten into the spirit of it all.
Over at ChezOuiz, cleaning up the kitchen and around the house sent two 30-gallon trashbags full of stuff to the curb and has led to a greater sense of peace and calm! Way to go Ouiz! And check out the way she uses little Rubbermaid containers for her spices – very nice.
Matilda, at Waltzing Matilda (of course), gets rid of the guilt and the clutter by cleaning up what remains of completed projects and turning her bedroom back into a sanctuary for her and her husband to enjoy.
Michelle at Living Waters reflects on how easily things can turn from blessings into clutter. She's working on making room for a toddler's fire truck bed.
Maggie of Crafty in Coffeeland has experienced a very stressful year. But she's ready to Get Back in the Saddle and start getting her house back in order. Her post is a reminder for all of us struggling with clutter that you can eat an elephant, but you've got to do it one bite at a time.
And finally, Dawn at By Sun and Candlelight, is just getting started clearing the clutter in what she hopes to be the first of many posts. This time she tackles the front of her refrigerator and that perpetual pile of paper we all know as coupons!
Goodbye clutter! Goodbye guilt! Goodbye stress and embarrassment and discontent! Hello to the calm, functional spaces that our homes are meant to be. Hello to lost treasures found and more time enjoying our families. Hello to lives that are filled with loveliness. Amazing work, ladies!

Print Friendly
More Mac and Cheese, please!