Part 2 of 3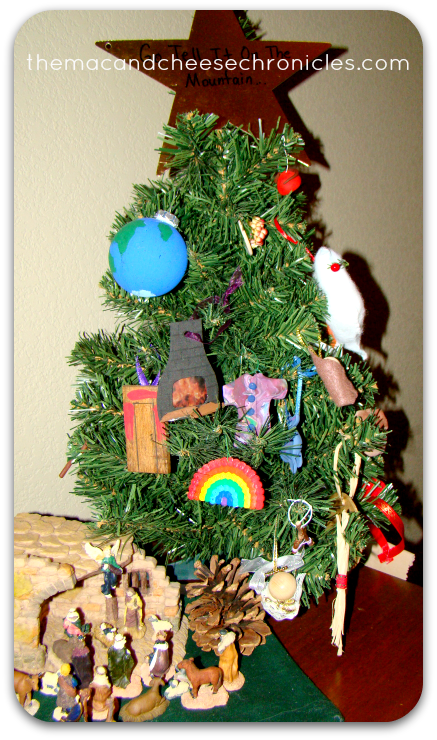 When I read an article in Faith and Family magazine about organizing a Jesse Tree craft swap, I knew I wanted to do one.  I thought about it briefly, then dove right in.  I asked the crafty-in-a-good way ladies on the 4 Real Learning forum and the members of my local Catholic homeschool group to participate.  I crossed my fingers and prayed that I'd get the required 28 sign-ups.
The basic idea is that 28 people agree to make 28 of the same ornament before a given deadline.  The ornaments are then collected and distributed and returned so that each participant has a full set of 28 different ornaments.
Most people make their own set of Jesse Tree ornaments.  There are many advantages to doing your own – you get to decide exactly how each will look, you can have consistency in your ornaments by making them all similar in style, you don't have to worry about deadlines and postage or someone dropping out of the swap.
On the other hand, being involved in a swap also has its advantages.  Primarily, it is easier and faster to make 28 of the same ornament.  It's cheaper too, especially when you are dealing with supplies that come in packages, spools or sheets.  You only have to come up with one design, and once you've worked it out, you can set up an assembly line to work quickly.  Plus being involved in a group with a deadline helps you to actually complete your ornament.  Many of the participants in my swap mentioned trying many times to create a Jesse Tree for their family, but petered out before Advent was over.
If you are interested in setting up a Jesse Tree swap, here is where you can find the documents I used:  Jesse Tree Craft Swap.  You will need to modify them for your own needs.  If all your participants are local, your job will be easier as you can meet in your parish activity room to swap ornaments together.  If the ornaments will be mailed to you, here are some additional instructions you'll want to provide:
ornaments should be packaged into one gallon size ziplock bag.  Participants should label their bag with their name and address.  They can use a 2nd bag if needed, but should not put each ornament into its own baggie.
ornaments should be wrapped if needed to ensure they arrive safely.
set a deadline for you to receive the ornaments by.  Allow yourself at least one week to process, package and mail the boxes out.
Participants should send ALL of their ornaments.  They should NOT keep their own ornament out.
Have everyone include return postage.  This gets a bit tricky.  Most of the time they can just purchase return postage and stick it in the package before it is sealed.  However, some of the ornaments were very light and it was clear that the return postage would be higher.  I would recommend setting a postage amount, say $6-$9 and have everyone include that set amount in their package.  Return any unused postage with the ornaments.
Keep good records. I thought I was doing a pretty decent job, but I found out too late that two different people made the same ornament.  We worked out a solution, but I feel terrible.  I could have avoided the whole mistake had I sent everyone a list of what each person was making and had them all double check.
Have a waiting list of swap angels.  Those are the people who are willing to step up at a moment's notice when someone drops out.  Every swap has someone who needs to drop out, sometimes at the very last moment.  Swap angels come in and rescue the whole thing!
Well, there you have it, the basics of organizing a Jesse Tree Swap.  It seems overwhelming, but with enough time (I started sign-ups in mid-October) you can easily pull it off.  I wrote this post because I know that someone will probably ask me for help in organizing a swap in the future.  My next Jesse Tree post will show you the behind-the-scenes nitty-gritty of the swap, plus pictures of the finished ornaments.
Find more information about the Jesse Tree here:  The Jesse Tree
See the completed ornaments here: Jesse Tree Ornaments

Print Friendly
More Mac and Cheese, please!