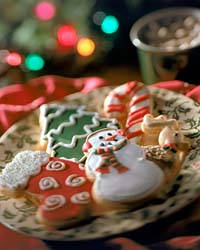 When do you make Christmas cookies?  Do you bake early and often during December or wait until Christmas is upon us?
Unless I am called upon to produce Christmas cookies for an exchange or potluck, I prefer to save my baking until right before Christmas.  We start eating them on Christmas Eve and continue enjoy them throughout the rest of the week.  If I baked cookies too early then they'd be gone before Christmas.
It's also part of my plan to have a low-stress Christmas.  I have my shopping done around Halloween and my cards mailed by the 17th.  Cookies are baked around the 21st.  The rest of the month we just enjoy the sights and sounds of the season.  Too many rushed and hectic Christmases past have taught me to plan ahead, slow down and relax.
We do our decorating during the weekend after Thanksgiving.   Except this year, where we were busily packing for our cruise.  Did I mention we went on a cruise?  The ship was beautifully decorated for Christmas and the Disney characters were dressed for winter.  Wait, where was I?  Oh yes – the decorating.  I held off on decorating during Thanksgiving weekend for years.  It was still November, after all!  But then days and sometimes weeks would pass with nary an evergreen on our mantle and I would get frustrated.  I finally realized that the crucial step in decorating, without which there would be neither holly or ivy, was Philip retrieving the Christmas boxes from the garage/shed/under the stairs.  If I tried to wait until December, then I also needed to wait until he was home from work and probably even after dinner.  The boxes would then sit in the house until he had time to climb the roof for the lights and help me assemble the tree.  Manly work, that Christmas decorating.  So one year I gave in and used Thanksgiving weekend for decorating.  And what do you know, just like that, my December to-do list was shortened.  I've never looked back.
Now growing up, one set of my cousins didn't even put up their tree until Christmas Eve.  I thought that was sad and a bit extreme.  I know that the Christmas season technically and liturgically doesn't start until Christmas Day, this being the Advent Season afterall, but that's a bit much.
I just refuse to let Christmas stress me out.  I want to sit back and listen to Christmas carols and look out our tree.  I want to go to Christmas parties knowing that I don't need to rush off to do some last minute shopping.  And you know what I do if the Christmas cards don't get out in time?  I send New Year's cards!  Vista Print and Kodak even have some nice New Year's photo cards.  Order them right before Christmas when you realize your Christmas cards aren't going out and they'll arrived just in time to mail around the 28th.  Actually, go ahead and order them now and let yourself off the hook for the Christmas cards.
So what do you do to relieve the load during Christmas time? (and have you noticed that when I ask a question at the end of a blog post, hardly anyone answers?)

Print Friendly
More Mac and Cheese, please!