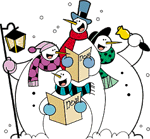 My favorite Christmas carol is "O Holy Night" and I'm particularly fond of the way Robert Goulet sang it. My parents had a great Christmas album with it on it, but sadly, Bob Goulet's version is not to be had on iTunes. Josh Groban does a nice job, too, but nothing beats Robert Goulet's deep, soothing voice. If I had any idea how to go about doing it, I'd get my parents to rip the whole album on to a CD for me.
My next favorite would be "Do You Hear What I Hear." I love the story.
I like Bob Seger doing The Little Drummer Boy. Something about his gruff voice singing that tender song with a great drum in the background just gets to me.
And of course, Bruce Springsteen singing "Santa Claus Is Coming to Town in concert"…my favorite part is when Clarence Clemons starts "ho ho ho"ing and Bruce starts cracking up.
And it just wouldn't be Christmas without Elvis singing "Here Comes Santa Claus." ( Ha! You thought I was going for "Blue Christmas", didn't you? No, those "we-oo-we-oo-wees" are just too much. ) Elvis sings all of the verses but the best parts are the lines "Santa knows that we're God's children, that makes everything right" and "Let's give thanks to the Lord above that Santa Claus Comes tonight." Sing it, Elvis!
However, you have not lived until you've seen our family break into Feliz Navidad. We heard it a couple of times during our cruise (you didn't think I'd go a whole post without mentioning it, did you?). I want to apologize to anyone on Deck 6 who was trying to nap while we went singing and dancing down the hall. I'm afraid we got a little loud. Let's blame Philip.
So what are you favorite Christmas carols?

Print Friendly
More Mac and Cheese, please!