Every year it's the same thing. In a burst of motherly love, I don the apron, drag out the jar of cookie cutters, the mixer and flour and get to work making St. Patrick's Day cookies. I don't mind making cookies, especially if they are of the drop onto the cookie sheet variety. Half the fun comes from sampling the dough – strictly for quality control reasons I assure you – and the finished product isn't so bad either. Cookies are easy and I often grit my teeth and let my children help.
But when the occasion calls for sugar cookies, watch out.
I usually forget that I'm supposed to make sugar cookies until the actual day arrives. Probably a form of self preservation. I pull out the recipe – butter, sugar, flour -easy enough, right? A little food coloring to match the holiday. Still good. Wrap the dough and refrigerate for an hour. Dig out the pretty pink silicone rolling pin. Get out the flour shaker.
And then it all goes to hell in a handbasket.
My pink rolling pin does wonders on any kind of dough. You should see me whip out a pie crust. But sugar cookie dough is a whole other monster. That stuff sticks like, well, like cookie dough to a rolling pin. Finally, after much muttering under my breath, the dough is rolled out. I proceed to cutting out the shamrocks. My first attempt is with a plastic green shamrock cookie cutter. The problem is that the stem keeps falling off the shamrock before I can even get it to the cookie sheet. Over the years I stopped even trying to stick it back on because then the stem only falls off the baked cookie.
It's not my fault, of course. The cookie cutter has been engineered poorly. See – the stem is so narrow that you can't stick your finger through it to push the cookie out. Every time I roll out the dough, I am only getting about 5 cookies successfully on to the cookie sheet.
By this time my children have discovered me. Cries of "ooo! Shamrock cookies!" and "Can I help?" and a round of the Donut Man song "God is three in one, three in one" are met with "Get. Out. Of. The. Kitchen!"
First batch in the oven and I'm swearing under my breath like Yosemite Sam. Frickin' frackin' frickin' frackin' tarnation shamrock cookies! Because nothing says "let's celebrate the lives of the saints" more than mom cursing the shamrocks.
I do this every year. Every. Year.
This year, however, I remembered that I might have my mom's shamrock cookie cutter that she used when I was a kid. It's not really a shamrock, though, it's a club, like in a suite of cards. Took me until high school to figure that one out.
Turns out I don't have the club/shamrock cutter, but I found a different metal shamrock that I think my mom gave me after last year's Shamrock Debacle. While not as cute as the plastic shamrock cutter, this one's stem is large enough to poke your finger through. Plus, being metal, it gives a sharper cut.
Behold – almost 4 dozen shamrock cookies: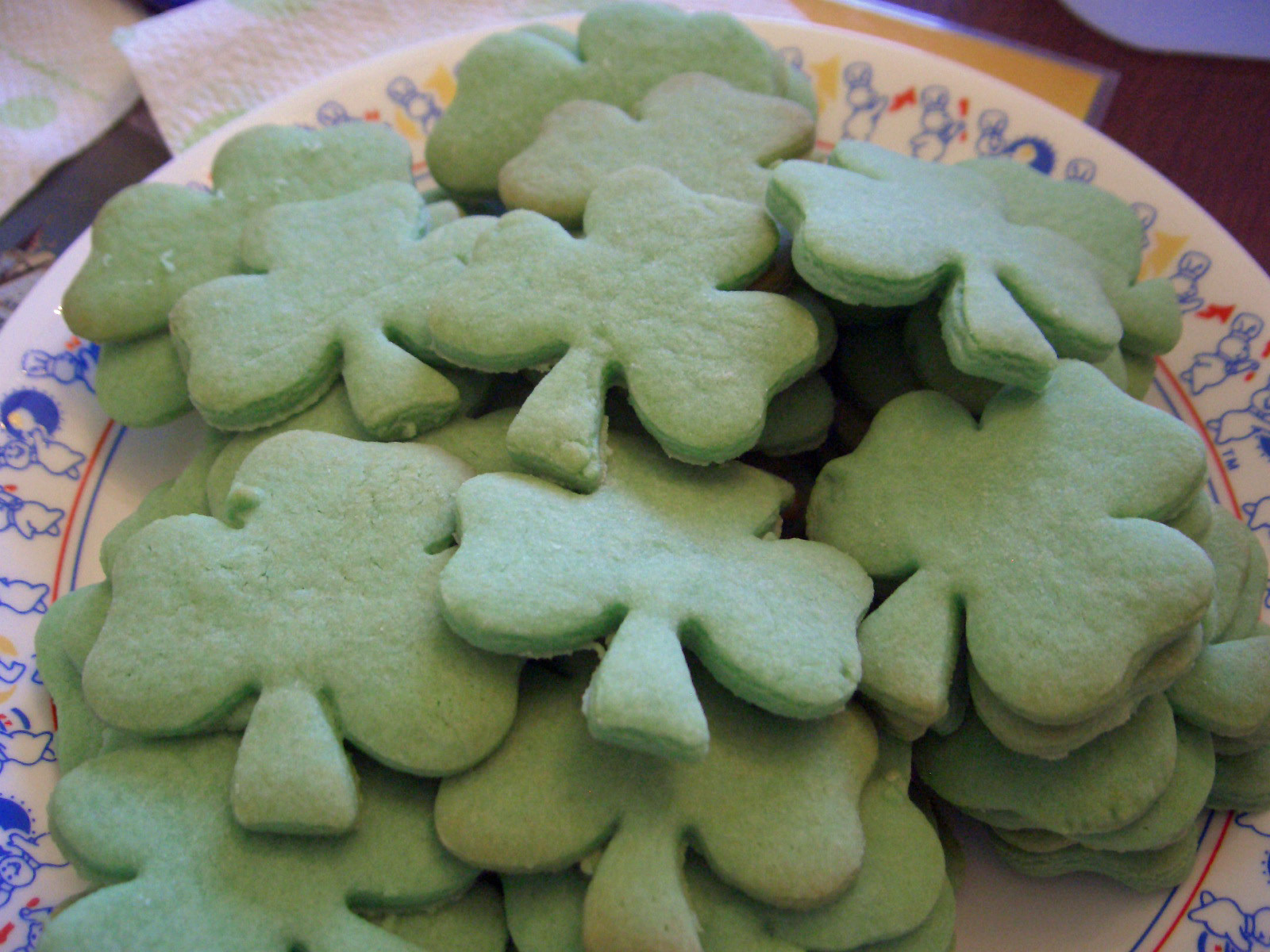 If that doesn't say "love", I don't know what does.

Print Friendly
More Mac and Cheese, please!