Good things do happen to us, too! It's hard to remember that when times become difficult and things start to pile on.
Last Saturday we had chance to have a little early Easter fun at the base egg hunt.  Boo complained that it wasn't Easter yet.  True, we told him, but this event was going to have very little to do with the Resurrection, so it was less about the date on the calendar and more about just having a good time.
The hunt was run by Youth Services, which on this base is well known for being, how shall we say it…disorganized.  I'll give them credit though, because it was better laid out than previous years.
First up was Bip's category – 2-3 year olds.  We gave him a briefing and he was all fine and good until the Easter Bunny showed up.  Then he sort of hid himself in his hood and eyed the giant furry creature suspiciously.  Once I jumped in and helped him walk around the scary bunny man, he was fine.  A lot of over enthusiastic first-time parents got in the way of picking up eggs, with their camcorders, staged photos and "Honey, sweetie, look over here!  look at mommy!".  I've done this many times now and realized that a good, candid shot is too hard to get, so I didn't have my camera out.
Bip got about 5 eggs and one had a prize ticket that entitled him to 2 bags of candy instead of one.  He refused to return his eggs and I didn't want to make a scene.  Next year I'll just bring a few from home and toss them into the box.  Maybe.
We had to wait a bit until Pumpkin Girl in the 6-7 year old group was up.  While we stood next to the field, we were treated to a mom firmly telling her son to "just get a lot of eggs." I resisted the urge to loudly tell Pumpkin, "Just have a good time." We should have had to wait another 5 minutes, but for some reason they started Pumpkin's group early. She was much faster than Bip and had part of the field almost to herself.  She practically filled up her basket, but didn't find any prize tickets.  She had fun anyway. I heard Competitive Mom saying, "Thirty six eggs and not one prize!"  Hmm.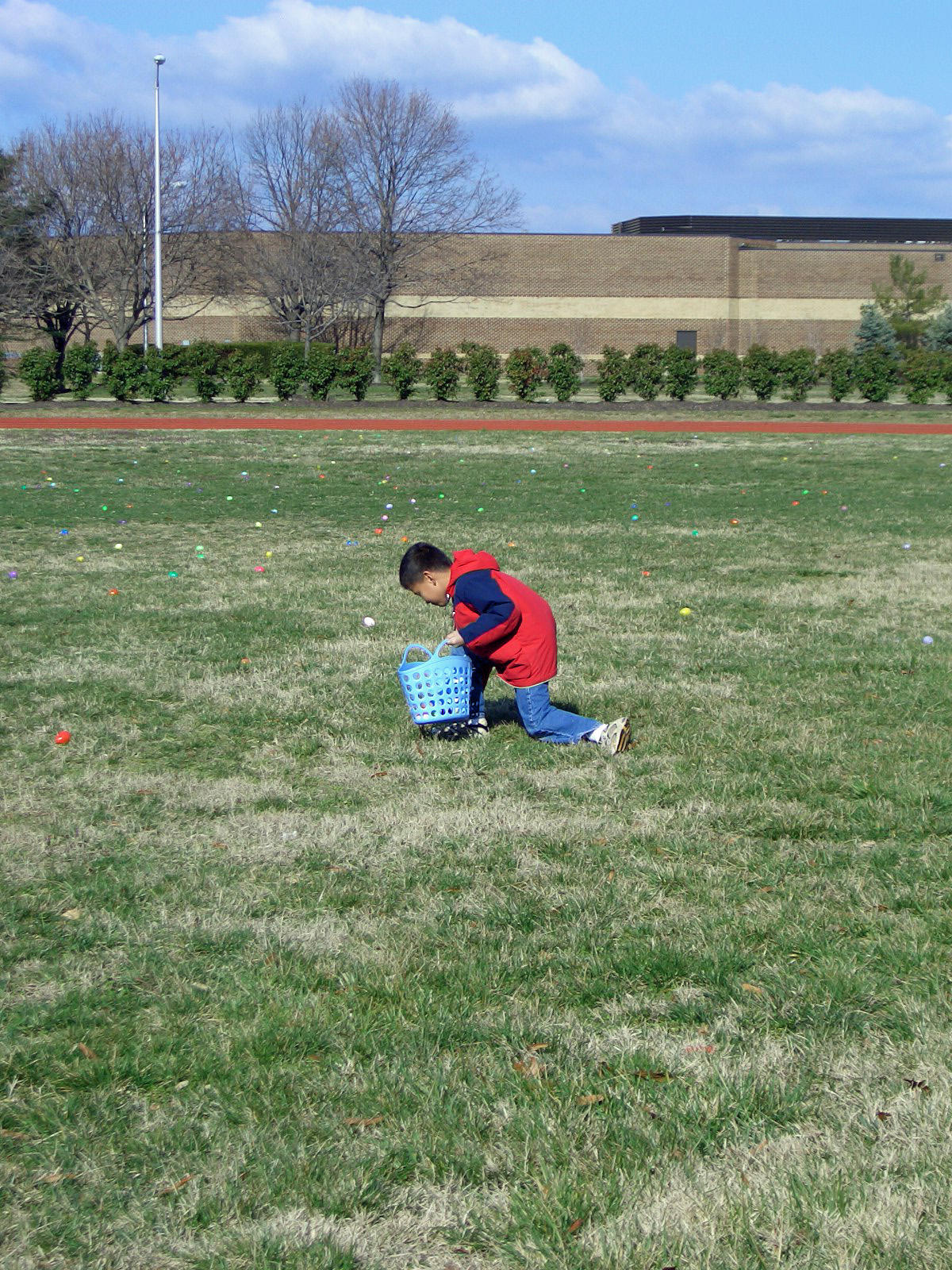 Boo's field was set and ready.  As soon as Pumpkin's group had turned in all their eggs and collected their candy and prizes, they let Boo's group go, even though now they were a good 20 minutes earlier than the published time.  Boo had almost half a field to himself and was even casually strolling as he picked up eggs.   He moved so slow that I got a picture. That boy found himself two of the big prize tickets.  When he claimed his prizes, we were surprised to find that he had won a boy Easter basket and a girl Easter basket.  Bip was thrilled to see that the boy basket contained a bouncy ball and he kept saying, "Boo play ball with me outside?"  Pumpkin Girl was over the moon with the big Easter bunny in the other basket, which Boo generously gave to her.
After we got over our excitement, turned in our empty eggs, and took some pictures, we were ready to go.  As we pulled out of the parking lot, I noticed the time  – 10:30, the same time that Boo's age group was scheduled.  I felt bad for any families that might have shown up thinking they were on time for that group, only to find out that they'd missed the whole thing.  I wonder how many complaints Youth Services got about that.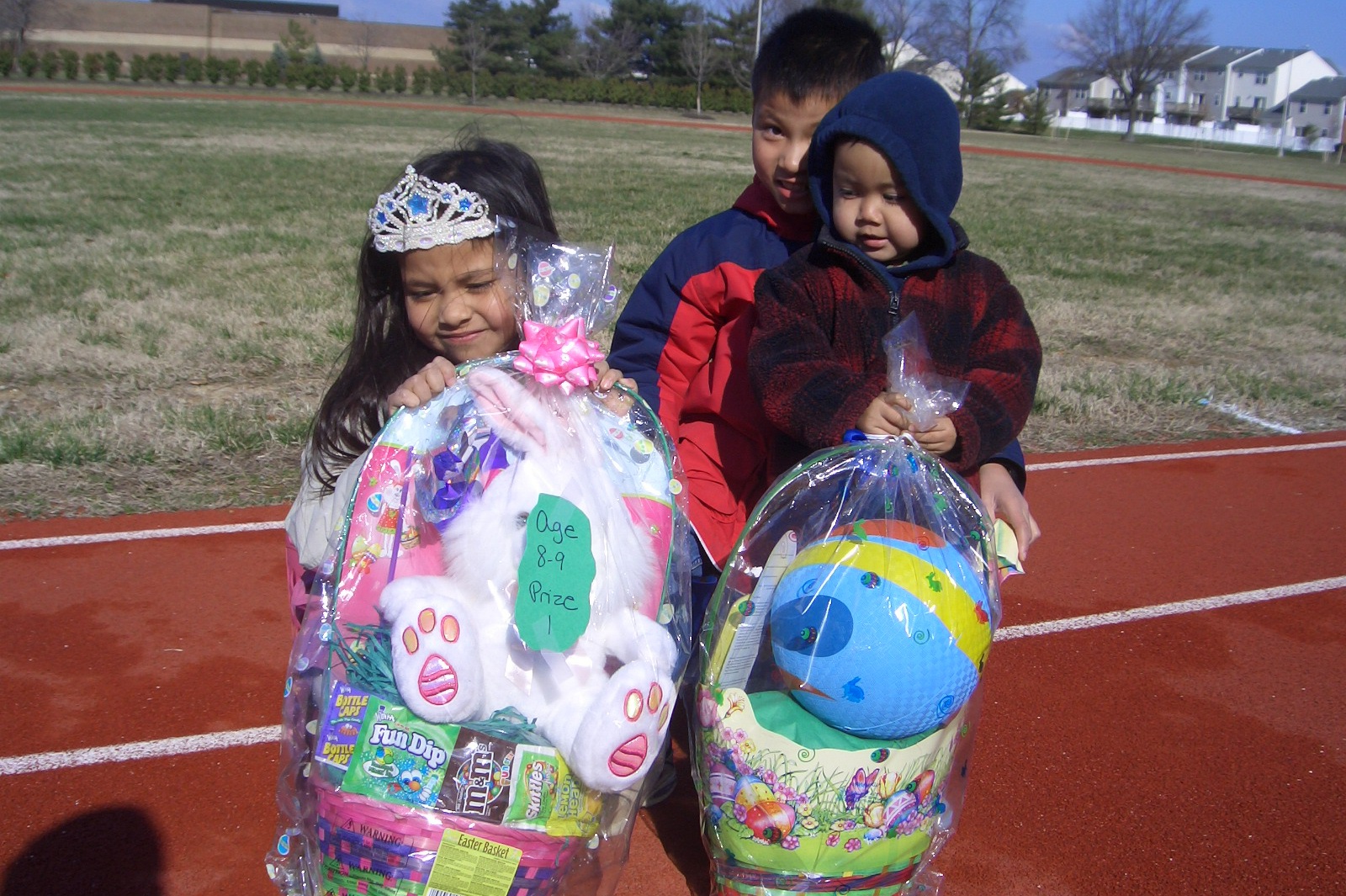 They are happier than they look here, the sun is just in their eyes.
Finally, I have to share one more picture of the other furry creature at the egg hunt.  It had quite a lot of people stumped, but I have it on good authority that it's the base mascot.  Nothing quite says  "Easter" than a goose, don't you think?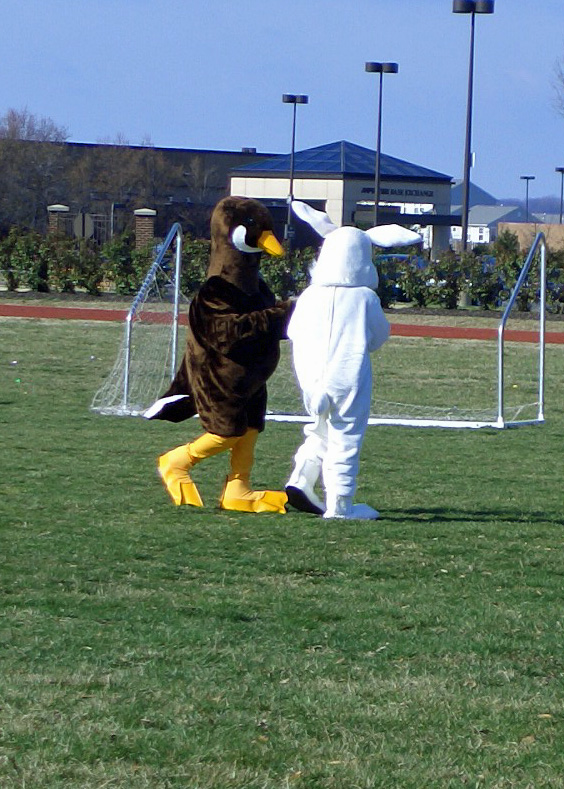 Print Friendly
More Mac and Cheese, please!