I wasn't supposed to be buying anymore yarn, let alone more patterns. But since I was left alone in a yarn shop for about 45 minutes, well, it couldn't be helped. Actually, I did go with the intention of buying yarn for Bip's next sweater. It started out to be Boo's first sweater, back in our Korea days. I chose a pattern and purchased the stated yarn online. It arrived and I started knitting. I showed Boo my progress and he announced that he didn't like the yarn because it was too scratchy and he wasn't too thrilled with the look of the actual sweater either. Fortunately (for him) I hadn't gotten very far.
So 4 1/2 years and two children later, I am adept enough at knitting to be able to switch from the listed yarn to one more suitable and a fast enough knitter (though still pretty slow, I think) to knit sweaters for children. I'm attempting the same sweater, this time for Bip, but with a softer yarn.

Here's what I'm making. It's a Debbie Bliss pattern from her How To Knit book. I'm using her cashmerino yarn. Yum!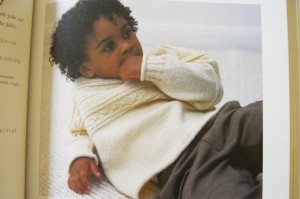 This was all I was going to buy! It took me long enough to pick out, what with the store not having enough of some colors, then me picking out substitutes in the wrong weight and piles of yarn falling on my head. And somehow these beautiful sock yarns found their way into my hands. I'm not sure how since the sock yarns were in a completely different room. But they are so pretty, I just had to have them.

Don't they look like ice cream? Double yum!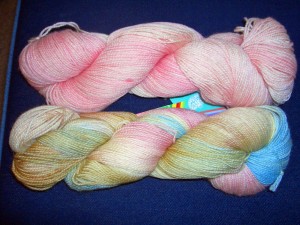 So I was paying for my yarn when Shanti showed up, claiming an accident between a car (not hers) and a grocery truck on the 14th St Bridge. We went to lunch and returned and really, my credit card should not have needed to leave my wallet again.
We were telling our story of the Lunch That Never Was to the enthralled politely listening customers and staff of the yarn store, when a sweater caught my eye. Not just any sweater, but a child's sweater without buttons. This is significant because Pumpkin Girl refuses to wear buttons. Not as a closure, not as an embellishment. Just won't wear them. She'll tolerate a lightweight summer sweater to guard against the air conditioning in church, but that's it. And when I say "tolerate", I do mean barely. So finding this sweater on display just sent my plans into a tail spin. Forget the 2 huge knitting projects I'm already working on, the dishcloth I owe a friend and Bip's sweater that I just bought yarn for. No – I must make this sweater. Here it is: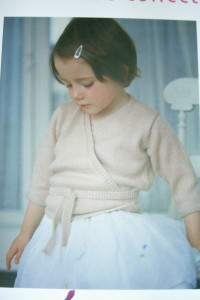 Pattern book in hand (another Debbie Bliss, this time The Cashmere Collection), I went in pursuit of more yarn. I picked this one, baby cashmerino in primrose.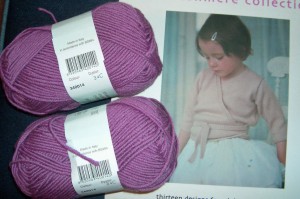 Pumpkin Girl has given me her approval on both the pattern and the yarn color. The best part was when, at church that evening, I put my arm around her and noticed how cold she was. I whispered to her, "Your arm is cold." She nodded. Then I said, "I should make you a sweater, " and she giggled.
It's important to treat your children well. They'll be choosing your nursing home some day.

Print Friendly
More Mac and Cheese, please!