This month's recipe is brought to you by Boo. It's a baked ravioli and meatball extravaganza, resplendid in its use of pre-packaged food. It may not be good for you, but it's good. And quick and easy. If you have a big enough freezer, you could even keep the ingredients on hand (even the cheese) for last minute dinners.
Bake Ravioli and Meatballs

1 25 oz pkg frozen cheese filled ravioli
1 20 oz pkg frozen cooked meatballs, thawed
1 28 oz jar spaghetti sauce
6 oz (1 1/2 cups) shredded mozzarella cheese

Heat oven to 375 degrees F. Spray 13×9 inch baking dish with nonstick cooking spray.

Cook ravioli to desired doneness as directed on package.

Drain ravioli; place in sprayed dish. Top with meatballs and sauce; sprinkle with cheese.

Bake at for 30-35 minutes or until thoroughly heated and cheese is melted.
See how easy that is? Don't go crazy trying to find the exact right sizes of the ingredients. Just use what you can find. Better yet, have your 9 year old son make dinner for once. Maybe you should help him drain the ravioli, though.
Boo dumps the cooked ravioli into the baking dish…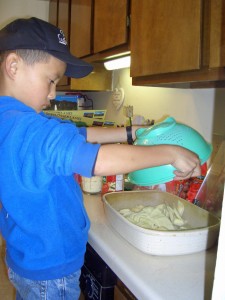 …and pours on the sauce. (Please note that where he is working is my entire kitchen workspace.)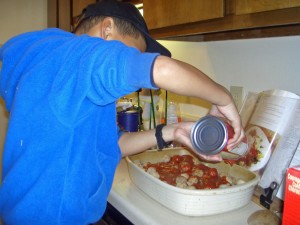 Dinner is ready!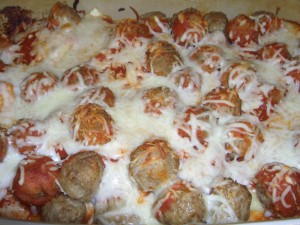 Print Friendly
More Mac and Cheese, please!