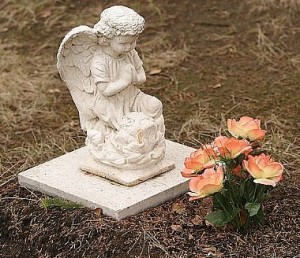 Grief is funny.  There you are, minding your own business, doing your thing and then it hits you – a piece of you is gone forever and not coming back and there is nothing you can do about it.  It really hurts.  Sometimes it's just a little hurt, like seeing the pretty Easter dresses in a store which are available in multiple sizes.  How cute my little girls would look, all matching for Easter.  Would, being the key word.
Or walking along the ship's deck on a Disney Cruise.    I know she would love the princesses.  She should be here. Should.
And then the moment passes and it's ok again.
Sometimes though – wow, it just hits full force and knocks you down and you don't think you'll ever get up.  You may not even see it coming.
A few times a year, we sing a song at church that we sang at Rebecca's funeral.  Sometimes we all make it through, sometimes we get a little teary and some days it is all too much.
Today was such a day.
I fell out first.  I couldn't even manage the first verse.  By the chorus I had tears streaming down my face.  At some point Philip stopped singing and then I saw Boo was fighting tears.  By the end of the song, the four of us were a sobbing mess, shaking and holding on to each other.  Poor Bip was the only dry eye in our family, the only one not bobbing in the wake of such an intense loss.
We sit in the front row of course, our grief  on display for the whole congregation.
We are all lucky to have experienced such a deep, long lasting love.  When we were parted from the one we loved so dearly, we were left with pain so intense that sometimes it comes bubbling out.  There's nothing to do but let it go.  I'd like to say it makes you feel better, but it doesn't.  Nothing does, really.  Except the promise of heaven.
In the immortal words of INXS, "Sometimes you kick, sometimes you get kicked."

Print Friendly
More Mac and Cheese, please!