We can't just "run out to the store" around here.  Our military base is wedged in between the Potomac River and the worst neighborhood in DC.  Plus, our base exchange, or BX, is small and it is a rare day when we can find everything on our list.  So we keep a running list of things to buy off base and when the list gets long enough, we load up the young 'uns and mosey on out.  As much as one can mosey in a minivan.
Last week we hit the much bigger post exchange at Fort Belvoir.  Much consuming was going on and there was no evidence of a slowing economy.  We bought a toddler mattress, a garden gnome, wooden hangers, boy's dress socks and a bunch of other stuff that has been happily stored away out of sight.  The only impulse purchases were from the Usborne Book lady lying in wait at the entrance.  If it's one thing our family loves, it's books.  We got off relatively easy with a children's book of King Arthur stories and one sort of fairy stories with morals.   Hmm, I guess the garden gnome was an impulse purchase, too. But really, can one really have too many gnomes?  Don't answer that.
We ventured out again on Sunday, this time to Target.  Oh Target, how do we love thee, let me count the ways:
Wide, open aisles
Bright lights
Nice things I'd actually display in my home
Decent prices
An actual selection of items, not just one
And Hello Kitty.  Target sells a lot of Hello Kitty.
Armed with my list, we shopped.  Since our little BX doesn't carry binders (you know, the 3-ring kind) unless it's back-to-school time, imagine my joy at finding not just file folders at Target, but color folders.  And children's chewable Tylenol – also not to be found at our BX.  And there, minding her own business in the health care aisle, this cute Hello Kitty humidifier.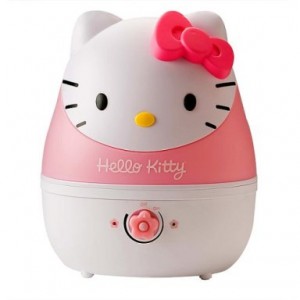 Stop laughing already!  Our humidifier broke while Phil was enjoying three hots and a cot and a daily exercise routine in Afghanistan.  We hadn't replaced it yet, so I ask you, why not Hello Kitty? Plus, Pumpkin Girl and I look really cute when we smile pretty and bat our long eyelashes over our big eyes.  Into the basket went Kitty.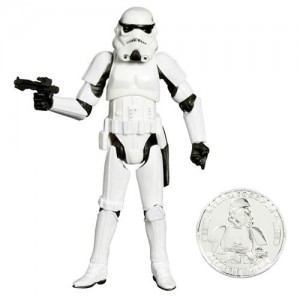 Onward to the toy aisle.  Not so much of a dangerous move as you'd think.  Boo needed some Storm Troopers (don't we all?) and he had his own money.  Then we moved on to the girl toys to shop a gift for Pumpkin's BFF.  I'm just glad we weren't at Toys R Us, or we'd all still be there.
Indecisive Girl is wickedly tough to shop with.  Everything I suggested, knowing a thing or two about little girls, was met with a resounding, "no!"  Since she obviously had her own ideas, I suggested that she should pick something.  Oh yeah, that went well.
"How about playdough?"  Um no, honey, your friend is turning 9, not 5.
"My Little Pony?"  Again, with the turning 9.
Then Helpful Boy started piping in with suggestions like a tea set or an Easy Bake Oven or Storm Troopers.
I suggested a game.  Pumpkin spotted Mancala, her newest favorite game.  It was a great idea, except that it cost all of $5.   So then we tried the Barbie aisle.  Barbie is not without controversy, so I was reluctant to buy one without asking BFF's mom.  But Pumpkin would not be dissuaded.  Thank God for cell phones, and yes, Barbies are fine.  So then it was a matter of which Barbie out of the 20 on display.  This one or that one?  Blond or Brunette, princess or ballerina.  Finally we had it narrowed down to 2 and I explained the pros and cons of each.  Then Pumpkin says, "I like the ballerina one."  You mean the one you said no to ten minutes ago?  ARGH!  I was ready to lie down, right there on the Target floor, and cry.
What I actually did was walk away and tell Philip to deal with it.
Turns out that Pumpkin was cranky at the purchase of Storm Troopers.  Once the birthday present was decided on, she asked very nicely if she could spend her money on something, too.  Her choice – a Barbie car.  If your child has a Barbie, you are contractually obligated to provide Barbie with a car.  Even I had a Barbie car – a yellow Corvette with a luggage rack.  Pumpkin's choice was this sweet little beach car, complete with drink cooler.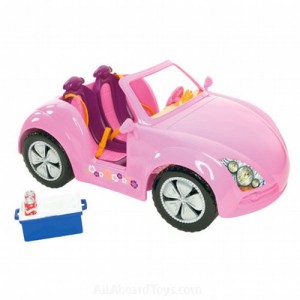 So, everyone all smiles again, we went off pick out some sandals for Pumpkin.  More drama, indecisions and mama on the floor in tears.
At least I got a Hello Kitty humidifier out of it.

Print Friendly
More Mac and Cheese, please!