Two year old Bip says "uttern-nun" for "another one". If he wants two cookies, he'll ask for a cookie for his "utter-nun hand". If he can only find one shoe, he'll say he's looking for his "utter-nun shoe." And look, I made an utter-nun sock!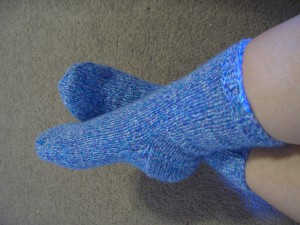 You all cracked me up in the comments about my first sock, by the way.
I used Knitting Pure and Simple's Beginner Socks with worsted yarn.  This is my second or third attempt at learning to make socks.  I couldn't figure out what was wrong until I learned a couple of days ago that my first pattern  was full of errors.  I located the corrections easy enough, but that pattern was the only one in the whole book that I had to download 2 whole pages for.  Not good when you're attempting your first sock.
Honestly, socks are easy.  As long as your pattern is accurate, that is.  Despite my best intentions not to maintain a stash of yarn, I have a nice selection of sock yarns that are calling me.  They are going to have to get in line behind a whole slew of utter-nun knitting projects.  My friends keep getting pregnant and their babies need handknits from yours truly.  It's a little scary the number of people I know who are having babies.  Something's in the air here.  Do not read anything into that sentence. I avoid going outside, remember, so I don't breathe the air.  Besides, I just don't have time to knit for any more little people.

Print Friendly
More Mac and Cheese, please!