This recipe is Pumpkin Girl's specialty. It's best eaten the same day, so make it for a crowd or only make half. Though it is still tasty when reheated a day or two later.
Apple Dumpling Bake
2 tubes (8 oz each) refrigerated crescent rolls
2 medium Granny Smith apples, peeled and cored
1 cup sugar
1/3 cup butter, melted
3/4 cup Mountain Dew
ground cinnamon
vanilla ice cream
Unroll crescent rolls and separate dough into 16 triangles. Cut each apple into 8 wedges. Wrap a crescent dough triangle around each apple wedge. Place in a greased 13″x9″ baking dish.
In a bowl, combine sugar and butter; sprinkle over rolls. Slowly pour soda around rolls. Do not stir. Sprinkle with cinnamon. Bake, uncovvered at 350° for 35-40 minutes or until golden brown. Serve warm with ice cream.
Serves 16
Here's Pumpkin putting the sugar mixture over the rolls: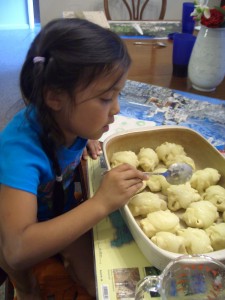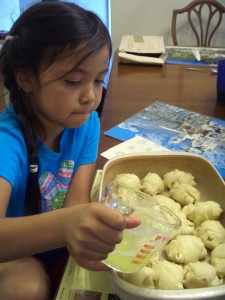 The finished product:

Print Friendly
More Mac and Cheese, please!