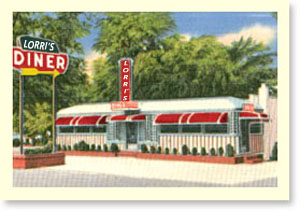 The hot, miserable DC summer is here. But no, I am not going to bore with you how much I dislike it. Today I am going to share with you one of the things that I do like about summer: basil.
I started growing basil when we moved to DC. I'm not a very successful gardener, but basil is one thing I can grow. It's quite easy – give it full sun, keep it moderately moist and let it grow. Pinch off the flowers so it won't go to seed and you'll have a bountiful harvest until the first frost.
I harvest my basil all season as I need it for cooking or when the plants get a little too big. I use fresh basil instead of dried or I freeze any extra. I just put washed leaves in a plastic container and stick it in the freezer. No big deal. In winter I have lots of "fresh" frozen leaves to cook with. They often turn black, but still taste and smell wonderful.
I like to cook salmon with basil. I got this recipe from my mom – she originally used tarragon and lemon pepper, but I switched it to basil and garlic powder and it tastes just as good. This is another very easy recipe, of course.
Salmon in the Oven
Preheat oven to 425°F. Place aluminum foil shiny side up and layer whole, fresh basil then salmon. Brush on melted butter or olive oil, sprinkle with garlic powder and more basil. Wrap and seal the foil. Place seam side down on baking sheet. Cook for half of total time needed, flip and continue cooking. Salmon is ready when it flakes easily with a fork.
Sorry the directions are a little vague. How much salmon you cook depends on how many people are eating. We usually make about 2 pounds of salmon for 5 people and it takes about 50 minutes to cook. Hopefully that will give you a guideline for your family.
Of course, the best thing to make with fresh basil is pesto sauce! We eat pesto with pasta 2 or 3 times a week during the summer. Here's the recipe I use:
Pesto Sauce
Add the following ingredients to a blender or food processor:
2/3 c packed basil (about 2 4 inch high stalks)
2 Tablespoons pine nuts
1/3 c olive oil
1-2 garlic cloves, peeled
2 ounces whole Parmesan cheese
Cover and process until blended.
This is the perfect amount of sauce for 1/2 pound of cooked penne. Also, I don't go crazy measuring the basil or the cheese. If the sauce looks runny, add some more basil. If you think it needs more flavor, add more parmesan. You can also freeze this sauce. I like to use little Ziplock bowls, the kind that hold about 8 oz. They are just the right size and stack well in your freezer.
Enjoy!

Print Friendly
More Mac and Cheese, please!