The title rhymes, by the way. (La clap-oh-tee, say fee nee) It means – The Clapotis scarf, she is finished!
Remember back in January, when I started it? It was just a few rows on a needle. I bet you forgot all about it. I've been plugging away at it for for six months, almost to the day. Would you like to see it?
Voilá!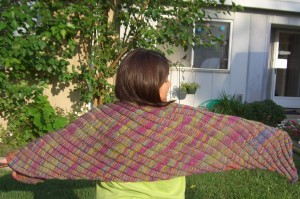 C'est moi! It's longer than my arm span, but I'm only 5 feet tall, so maybe it's not all that long.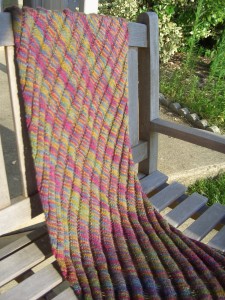 Here she is sunning herself on our teak rocking chair.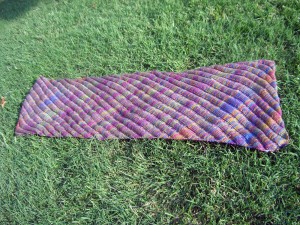 It was a hot and humid day, which is hard if you're a wool scarf/shawl thing. She needed to rest on my lawn.
None of these pictures do justice to the actual color of the yarn or the awesomeness that is the drop stitch design. Here's a close-up: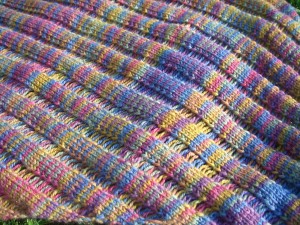 I finished it 4 months before I thought I would, which is pretty impressive considering all the projects I started and finished in-between. The best part is, it totally matches all my blouses, which I realized just the other day consists entirely of Land's End t-shirts in short, long or 3/4 sleeves. Regardless of my lack of wardrobe originality, I'm going to look so great on the sidelines of the soccer field this Fall! I my mind, I'm sitting there in my camp chair, ginormous sunglasses shielding my eyes and my Clapotis flung carelessly across my shoulders. People gather in groups and whisper, "Who is that? Eva Longoria? No way – it's Boo's mom! Wow, I can see where he gets his good looks!"
What? It could happen!

Print Friendly
More Mac and Cheese, please!