A few weeks ago Bip decided that he wanted to see whales. I have no idea why, he just started saying, "Me want see whales." Since we were already busy planning our California trip, we decided to dedicate a day there to seeing whales. I was not about to actually go whale watching, on some three hour tour to get seasick and wet and not see any whales. Instead, I suggested going to the Aquarium of the Pacific.
Of course an aquarium is not actually going to have whales, but I thought perhaps Bip would be satisfied with seeing fish. I was right.
Now, we've been to a few aquariums over the years. Before we were married, Philip and I went to the Monterey Bay Aquarium. A few years ago we went to Ripley's Aquarium of the Smokies in Gatlinburg with its shark tunnel(very cool). We've been to National Aquarium in DC (small) and to the National Aquarium in Baltimore several times. So to be honest, we were not expecting to be impressed. We were wrong.
First off, the children were given maps that were actually like souvenir programs. Each page highlighted a different section of the aquarium, with pictures and descriptions of the fish. A sort of treasure hunt was included in the pages. Throughout the aquarium were stations to emboss a sea creature picture on to the corresponding pages. If you emboss all the pictures, you receive a souvenir pencil.
Then, right there as you walk in is a huge whale model suspended from the ceiling. Bip was happy to see his whale and already our adventure was a success.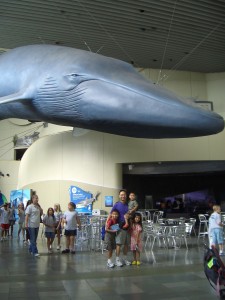 A few feet away from the flying whale,  we found divers cleaning a two-story tank.  One of the divers pointed to Boo and they played three of rounds of "rock, paper, scissors" togther!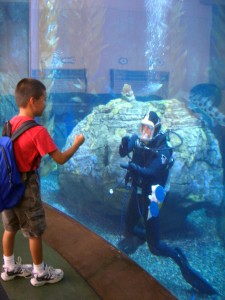 We really enjoyed the Aquarium of the Pacific. The fish displays were huge, so there was usually no problem with the children getting a good view. The windows often went from floor to ceiling, so small children or toddlers in strollers could also see easily.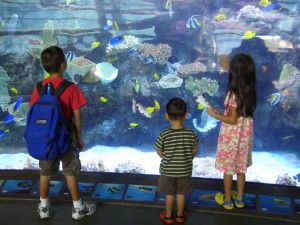 Another cool thing about the windows is that many of them were curved, so you could step right up to them and be almost surrounded by fish!  Lean in a bit and it was like being in the tank.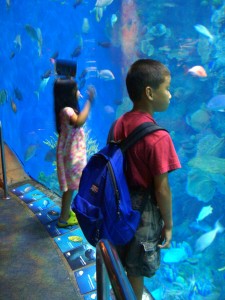 There were some touch tanks outside, as well as a sea lion viewing area and a playing area. We even spotted the Queen Mary from up in the sea lion area.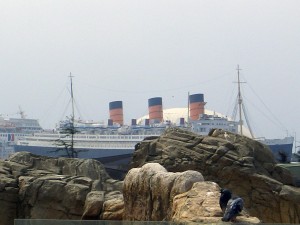 We arrived within half an hour of the aquarium opening and the crowds were light. A few school groups kind of got in the way, but we managed to ditch them about half way through. We took our time and enjoyed all the fish and collected embossed pictures for our maps. We were finished in about 2 1/2 hours. As we were leaving the crowd had gotten noticeably larger.
For lunch we walked not even a block to Chili's. There was several other similar chain restaurants right there, too. (The aquarium had food and an eating area, we're just never happy with aquarium/zoo food prices and quality.)
We had a great time there.  If you're ever in the Long Beach area and don't have the time or budget for Disneyland, try to get to the Aquarium of the Pacific – we highly recommend it.

Print Friendly
More Mac and Cheese, please!