Not too long ago, Boo, Pumpkin Girl and I were sitting on the couch doing school.  We were studying animals and Bip came up to us, peered over the edge of the book, saw what we were reading and said, "Me like alligators.  Hmph."
I hadn't known he likes alligators so much.  He likes to see them at the zoo, on TV, in books, anywhere.  So what's a mama to do but knit her little boy an alligator scarf, in green, his favorite color.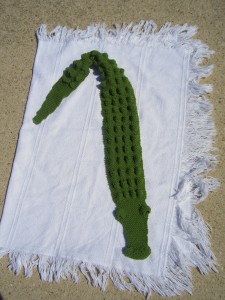 How cool is that?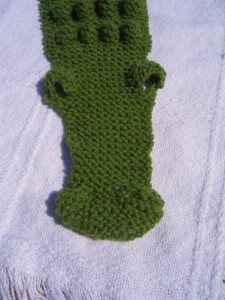 Love the face!
It only took me a couple of weeks to finish.  The whole time Bip would say, "You finish my alligator?"  I'd tell him I wasn't quite done and he'd say, "No fair!"
Silly boy!  He was very happy when I showed him his finished scarf.  Now both of us can hardly wait for the colder weather to set in!

Print Friendly
More Mac and Cheese, please!