I didn't really want to get into politics on my blog, but an important issue has been brought up and it cannot be ignored.
When purchasing or making a hat or scarf, do you coordinate it to the color of the jacket it'll be worn with?
Hanging preposition and all, this is serious stuff.
My neighbors and I were sitting around knitting, like all good Christian mothers are wont to do on a late Friday afternoon, when one mentioned matching a scarf to match her daughter's jacket.  I'd never heard of such a thing, and neither did the other ladies in the room.
Now I will admit that it might be a cute idea, a pink scarf to match a pink coat, but I wouldn't deliberately try to match them.  In our family, we buy children's winter coats in gender neutral colors like blue and red so that they can handed down from boy to girl to boy.  I knit scarves based on the preferences of the child – an alligator scarf for Bip, a white one with multi-colored fleck for Pumpkin Girl and a blue and red striped one for Boo.
Philip is in possession of the Boyfriend Scarf, a multi-year, multi-boy project that deserves a post of its own.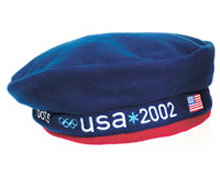 So I am fascinated about the act of going out with willful intent to match a scarf and hat to a coat.  Of course, I wear a blue coat with a pink scarf and a Roots Olympic Beret.  I also wear pink Hanna Andersson clogs regardless of what color I'm wearing, so what do I know?
So what say you all?  Do you coordinate your scarf or hat color to your coat color?  And in which state did you grow up?  I've got a theory about this.

Print Friendly
More Mac and Cheese, please!