I have been more or less intentionally neglecting my blog.  Fall is such a busy time for our family, but I love Fall so much that I like to spend my free time just enjoying the weather.  So that equates to less time on the computer and alas, a neglected blog.
I got a chance to meet up with my friend Shanti at our knitting store yesterday.  I don't know about the rest of the world, but the economy was alive and well in Old Town Alexandria!  Both my go-to parking lots were full, our usual restaurant was full and we were fortunate enough to find another one with only a short wait.
I did find myself in a bit of a dog-dislikers hell as we left Starbucks in the middle of doggy trick or treating.  It was cute in a sort of, stay over there and don't even think about licking me kind of way.
Did you catch that – I went to Starbucks.  For the first time ever.  I tried their Pumpkin Spice Latte in order to compare it with mine and you know what…my recipe is better!  Theirs was sweeter, which is remedied by more sugar in mine, but theirs also had a sort of artificial flavor, which I suspect came from the syrup they used.  My recipe calls for real pumpkin and real spices and now I'm thinking about turning that pot of leftover coffee into a pumpkin latte.  mmm
So onward to the knitting store where we camped for about 2 1/2 hours and knit and knit and knit.  It seemed like I made no progress on Boo's never ending scarf, but I think that's just the way of it with scarves.  You knit forever and then suddenly it's long enough and it's done.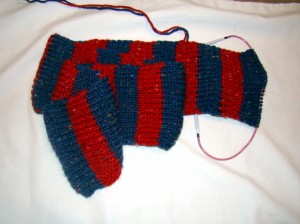 I also worked a bit on this: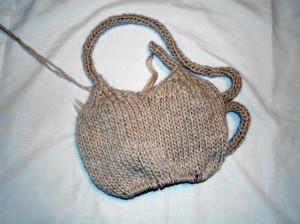 It's a going to be a bag, despite the fact that it looks suspiciously like a halter top.
Upon returning home, I got everyone ready for our last trip to Boo at the Zoo.  We loaded our two knights (one medieval and one Jedi) and our princess into the car, arrived with time to spare and rejoiced in the mild temperature.  Last year we half froze to death, even with gloves on.  This year was much better and Bip was so much fun to watch as he totally got the whole open your bag for candy thing!  Our strategy of buying tickets for the last night of the event paid off once again as we hit up the vendors trying to unload the boxes of goodies still left at the end of the night.  We each got multiple handfuls of Bip's favorite organic granola bars.  And by the time we were ready to head home there was no line at the Good Humor truck, as opposed to the huge one earlier, so we enjoyed a final free treat on the way out.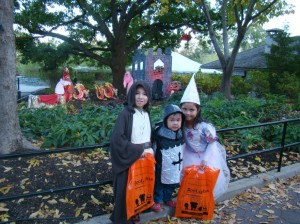 Of course, good homeschooling mother that I am, I gave my children pop quizzes along the way.  Boo was able to correctly identify which system we were traveling through after being "eaten" by the giant tiger, and told me what kind of knight was giving out candy.  The answers were the digestive system and the knight was a crusader as identified by his red cross on the white field.
Pumpkin Girl dazzled the zoologist at the bird station with her knowledge of all things avian.
And this morning during school, we all remarked at the quintessential Fall weather – dark and gloomy, with the wind literally howling through our windows.  A perfect day for hot chocolate!  And as I sit here typing, the outside temperature has dropped from 50 degrees to 44.  Brr!
Sadly though, Boo has soccer practice today and it's bound to be even colder by then.  The howling wind isn't going to be nearly as romantic while I'm forced to sit on a cold metal bleacher.
Unless I bring along a homemade pumpkin spice latte.

Print Friendly
More Mac and Cheese, please!