Oh yeah.  Blogging.  I forgot all about it and left you all in breathless anticipation of my account of how I had a way better time than you did last week. (neener neener)
Actually, I came down with a pretty bad cold (is there such a thing as a good cold?) and I got all stuffy and headachy and sore throaty and wasn't so much feeling the blog love. (so neener neener back at me!)
Now here I am, generally no worse for the wear.
At Hollywood Studios (previously known as Disney MGM Studios) we ran into the green army men while walking around.  Boo thought they were funny, so we stayed to watch.  Next thing he knew, Boo'd been recruited!  Please note that he's the only child correctly "at ease".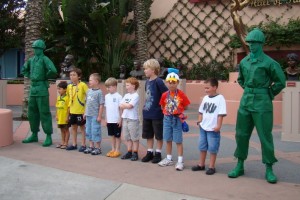 Here they are, striking typical bucket o' soldier poses.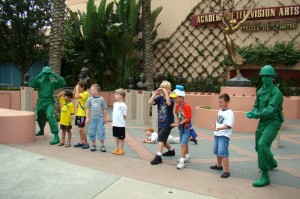 While wandering around the backlots, we found this snowman: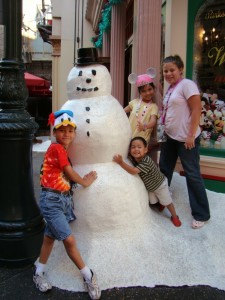 Remember our Star Wars themed Halloween?  Well, Luke and Leia found some sort of Star Wars vehicle to drive.  (please note that I am not geeky enough to know the name of the vehicle)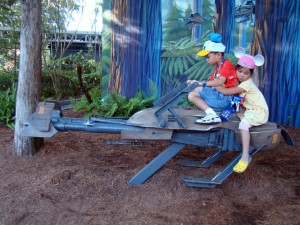 I kept asking Boo if he wanted to attend the Jedi training that was going on at various times.  He kept saying no until I asked him why.  He told me he didn't need to attend Jedi training because he was already trained.  How could I forget – he's known as Master Boo around the neighborhood.

Print Friendly
More Mac and Cheese, please!