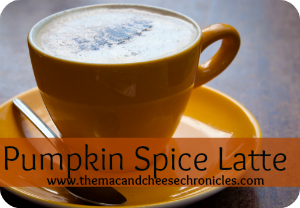 (this is a repost from November 2, 2008)
Whew.  I think I'm recovered enough from a flurry of Halloween, birthday and baby shower activities.  I've had a couple of requests, both in real life and on my blog for my Pumpkin Spice Latte recipe, so here it is:
Pumpkin Spice Latte
2 heaping Tablespoons canned pumpkin
2 Tablespoons brown sugar
1 teaspoon vanilla
1/2 teaspoon pumpkin pie spice*
1 c strong coffee
2 c milk
Combine all into a pot and heat.  Serve into cups, garnish with whipped cream and ground nutmeg.  Makes 3 cups.
After I tried the Starbucks Pumpkin Spice Latte, I thought theirs was sweeter than mine, so next time I make it I'll probably add more brown sugar.
*If you don't have pumpkin pie spice on hand, you can make your own with spices you probably already have.  Here's a recipe.
Pumpkin Pie Spice
4 tablespoons ground cinnamon
4 teaspoons ground nutmeg
4 teaspoons ground ginger
3 teaspoons ground allspice
Combine all and store in an airtight container.