I've spent the last couple of days trying to make some serious progress on my house.  It is so small that there is no where to move.  If you start any kind of project, from paying bills to making crafts, it completely takes over the house.  Trying to get to anything requires bending, stretching and bruising your knee.  I'm just tired of everything being everywhere.
I dream of having a real office.  With a work space.  And a little basket for the incoming mail.  Then bills can be paid, sensitive documents shredded, important papers filed – all without having to drag something out of the way.  I dream of doing laundry without having to drag boxes into the hallway so I can reach the washing machine.  I don't know, I'm funny like that.
So this week I've tackled the mail.  The little basket will have to be in the dining room, even though the shredder has to be under the computer desk in the living room.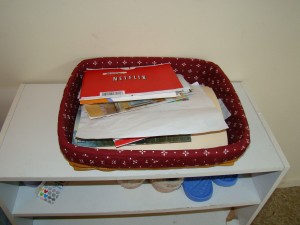 I repurposed a storage box for some of the extra yarn that seems to have found it's way into my house.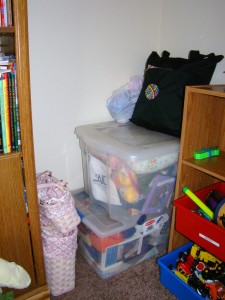 I found a basket for Bip's coloring books and crayon box so that they look pretty on the shelf in the dining room instead of like a whole heap of junk.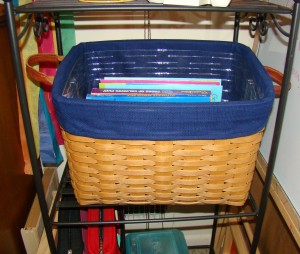 I cleaned out my school box, reducing it to only the stuff I use every day.  All the extra stuff can be moved outside to the storage shed.
I cleaned out my kitchen.  We took our little pumpkins from the pumpkin patch and set them outside for the squirrels to eat.  I hate squirrels, but they are God's creatures and it's cold out, so hey, "Merry Christmas, foul rodents!"  I threw out my husband's smelly sponges (blech!) and put away the Halloween water bottle.  I hung my Mickey Mouse cookie cutter on my wall with a piece of ribbon.  I'll think I'll hang some other cute ones up, I just have to find more ribbon.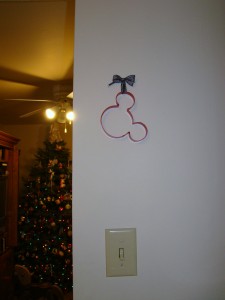 I have a huge stack of papers and stuff that need to be put away and I'm procrastinating.  That's the worst part of this – putting away all the stuff that should have been put away a long time ago.  But look at it – doesn't it scare you?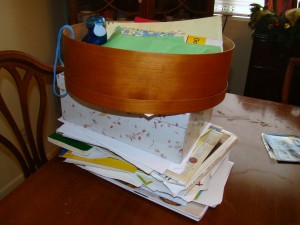 Print Friendly
More Mac and Cheese, please!