Did I mention that our computer wasn't working?  Well, it got fixed.  Then I did something to it and it's not working again.  This time it may be fatal.  Apparently, I should not be allowed to touch the technology.
I was going to tell you all about this year's Pinewood and Powder Puff Derby, but I have pictures and guess where they are?  Yep, the computer.  The good news is, they are not lost forever because we back up our computer daily using an online service.  I just can't get to them until we restore the files back.
But I can show you my latest craft projects.  I finished several things that have been almost done for a number of months.  The first one is this teddy bear which I made for the Mother Bear Project.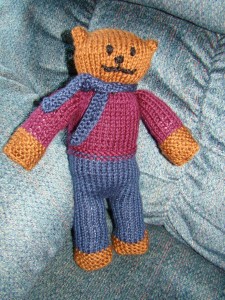 I got the pattern from Knitting For Peace.  Normally, a title like that would cause a knee jerk reaction from me.  I'm allergic to "peace" causes.  There's a whole lot that needs to be done to achieve peace and knitting isn't one of them.  However, I saw this little bear on someone else's blog and she mentioned the book, so I bought it.  I'm really glad that I did.  It's filled with lots of great projects to make for others in need.  Most of the patterns can be found for free on the internet, but the stories in the book are well worth reading.  The one about the Mother Bear Project brought me to tears.  And so a bear was born, or er, knit.  Be sure to check out the Mother Bear Project website, especially their Photo Album.
Then I finished my snowman's scarf: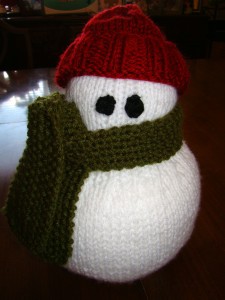 And I crocheted a chicken pot pie holder.  Too funny!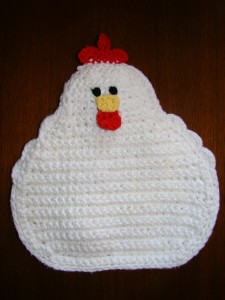 Print Friendly
More Mac and Cheese, please!