So last Friday when I was feeling mostly better after the stomach virus, and I'd eaten a couple of meals, I had this burst of energy. So big that it caused me to do housework.  I tackled this bookshelf: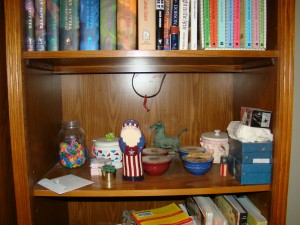 Hey, I didn't say it was a huge burst of energy.  And remember, I hadn't eaten anything in like 6 days and was pretty worn out and weak. The bookshelf was all I could handle.
I was tired of looking at it all the time.  We've lived in this house for 2 years and this shelf has been the collecting spot for all sorts of things since we moved in.  It doesn't have books because it is supposed to be where my Swarovski crystal collection is displayed.  But as that hasn't happened in 2 years and we're moving in 5 months, it's not going to happen at all.
I took everything off the shelf, dusted it and found a new home for most of the stuff.  Then, because I'm highly distractable when it comes to housework, I went through all the other books in the house and picked out ones to give away.  I also rounded up some books for the newly cleaned off shelf.
Which is when I noticed our Curious George books.  My uncle Anthony gave Boo two Curious George anthologies for his first and second birthdays and he drew a cute little George cartoon of his own in the front covers.  We loved those books so much that the covers fell off!  I couldn't replace them because we'd lose the little cartoons.  So they sat safely on the shelf for a while.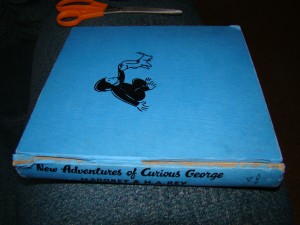 But since I was all energetic, I got out the book repair tape I bought a couple of months ago and fixed them.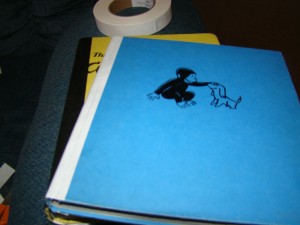 And while I was culling another bookshelf, I found the original paper covers that I'd stashed behind some books for safe keeping. I covered them with clear library covers and now look!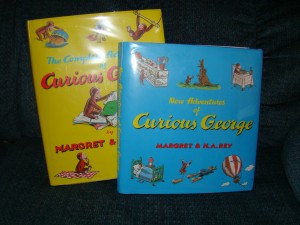 All better and ready to enjoy again.
I did eventually get back to the original bookshelf.  See…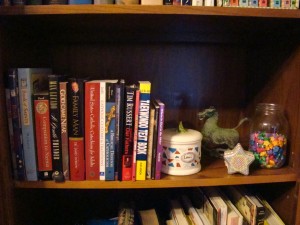 Just one more Corner of My Home that looks a little nicer.

Print Friendly
More Mac and Cheese, please!