My friend Shanti and I are at it again.  Crafting, that is.  We've been crafting buddies since the very late 80's.  This time we're having a knit-along together.  Several people wanted to know what I'm making with my Noro Silk Garden – well it's for the entrelac scarf that Shanti and I are each knitting.
I cast on yesterday –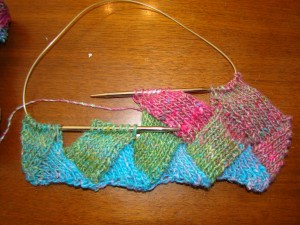 I love the way that entrelac looks like it's strips of knit fabric woven together, but in fact it is not.  It looks tremendously difficult, but again, it is not.  If you know how to increase, decrease and pick up stitches, you can knit entrelac.
As for the Silk Garden, well, what can I say?  I found it online on sale and I had a coupon code. I saved $3 a skein, which only makes me love it more.  It feels sort of scratchy in the skein, but when it gets knit up it seems to soften.  I've read that with a good soak before blocking it'll soften even further.
Did I mention that entrelac is addicting?  I keep wanting to finish just one more block, then one more row, then oooo! a color change is coming up, gotta keep going to see which color it is!  I don't think this scarf is going to take long to finish!

Print Friendly
More Mac and Cheese, please!