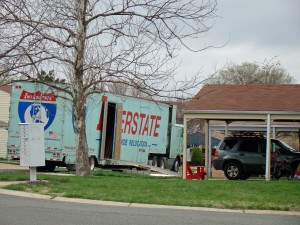 My friend and neighbor packed out this week and they'll be leaving on Saturday morning.   We've been living on the same block for 3 years now, and we've seen each other almost every day.  Our children play together, our daughters dance together, we go to Catholic Women of the Chapel together, our husbands were on the parish council together, we went to our Catholic homeschool group together.  Our lives have been intertwined for the last few years and now it is time to say goodbye.
I won't even pretend that we aren't very sad about this.  This has got to be the worst thing about military life, the saying farewell.
It's not too bad when you are the one leaving.  For weeks and months before your packers arrive, you are busy with the details of moving.  Things happen in a blur, the stress levels increase and it's all such a hassle, then the packers show up and do their thing, your stuff is loaded in a van, you clean your house one last time and you're gone.  Off to the next big adventure.  You're sad to be leaving, but there are new things ahead of you.
When you are the one left behind, it's really quite lonely.  You see the movers pack up your friends and then you go over to their newly empty house to pick over their perishable foods, flammables and liquids that the movers won't pack.  The truck pulls away and at some point it's the final goodbye.  And then your friends just leave. And you go back into your house, wondering if you'll ever see them again.  You promise to keep in touch (this time!) but inside you wonder if you'll just end up on the Christmas card list.
It's going to be particularly hard this time around, since Boo, Pumpkin Girl and Bip's friends are leaving, too.  Usually it's just one of us losing a friend when someone moves away.  This time it's all of us.
It's going to be tough at first, but we've got a Major Event every month for the next 3 months and that'll keep us distracted and busy until it is our turn to move on.

Print Friendly
More Mac and Cheese, please!