It's that time again – the Spring folklorico performance.  Boo and Pumpkin Girl are in 9 different dances with 5 different costumes, hairpieces/hats each.  That's ten costumes with accessories!  We have some of our own costumes, we borrowed others from the company and two more are supposed to be here by tonight's rehearsal.  They're being shipped from Mexico.  I'm a bit skeptical.
Of course, none of the company costume pieces are able to be worn as-is.  They all need some sort of basic tailoring to have them fit my children.  The toughest one is the pre-Hispanic suit Boo has.  It's 4 inches too big around the waist and with the shocking lack of belts in pre-Hispanic Mexico, I'm not sure how to keep it around his skinny little waist.  He's already got to wear bike shorts under it for modesty's sake so I need to figure out a way to keep it from falling down around his rattle-wrapped ankles.  I already tried safety pins, but I don't think it's going to work.
Of course we just got the costumes last weekend.  Nothing like last minute costume altering to drive a mom crazy.
We bought a temporary clothes closet to hang costumes on in the dressing room.  Right now it's set up in the living room with the costumes so I can keep track of what I've altered and pressed.   I do have a list of all the accessories each dance needs and what I need to do, but I find myself wandering around muttering, "Guerrero, Jalisco, Polka, pre-Hispanic, Veracruz…"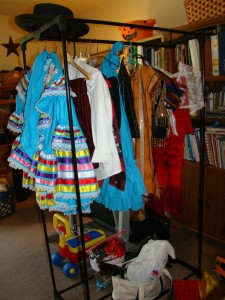 There are still 3 costumes missing from this picture.  The jack o'lantern in the background has nothing to do with anything.
I've also got house guests coming in on the day of the rehearsal, in the middle of the rehearsal, in fact.  Good thing the airport is less than a mile from the theater.  Phil can run over there while I watch rehearsal.
In spite of my complaining and worrying, this performance is going to be fun.  If you live in the DC area and would like to go to the show, shoot me an email at the address over there in my sidebar. Tickets are $15 for adults and $10 for children.
edited to add: the show is Saturday, April 18th at 7:30 PM and features both adults and children in dances from various regions of Mexico.

Print Friendly
More Mac and Cheese, please!