First Communion time is looming.  We have a dress and shoes and stockings.  I have a gift planned.  The banner is ready.  The only thing really left to take care of is the veil.
I don't know how it happened, but when I made my first communion I ended up with a rented dress and veil.  There aren't any pictures of me that day, either.  It's disappointing, not having anything to pass along to my daughter for her First Communion.
Then I heard about somebody's tradition of passing along their wedding veil to their daughter for First Communion.  My bridal veil is in two pieces, a circlet of flowers plus a separate veil.  The veil is much too long for an 8 year old, but the circlet of flowers is perfect.
So we went in search of an appropriate veil.  We found the perfect one, a miniature version of the veil I wore when I became her father's bride.  Mine was edged with pearls, hers is edged with satin.
When it arrived, she tried it on with my head piece.  It – she – is beautiful.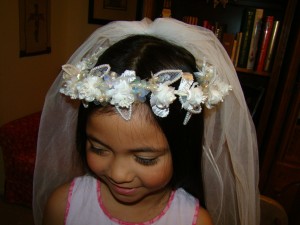 Print Friendly
More Mac and Cheese, please!