The last two weeks have been a bit of a blur.  We've spent a ton of money trying to stimulate the economy through our home decorating efforts.  Pillows for the reading nook, curtains for Pumpkin Girl's room, a guest room bed for whichever Nomads turn up on our doorstep, and a bunch of other stuff I can't even remember.
Then our stuff arrived.  Pumpkin and I were looking out my bedroom window when a moving truck loaded with crates drove by.  "Hey cool," I said. "There goes someone's stuff."  Then the truck slowed down and began to turn around.  It was our stuff, of course.
The unloading went well and we were amazed to see what happens when you more than double your square footage.  Every prior move to this resulted in our new home being crammed with boxes and misplaced furniture.  We could barely move and sometimes had to unpack boxes just to be able to reach a bed or the toilet.  Not so with this house!  Not one room is overstuffed which makes the whole unpacking ordeal so much easier. And, to our great surprise and relief, we did not go over our weight allowance, but were under by about 2,000 pounds.  Which is good because we have to pay by the pound for any excess.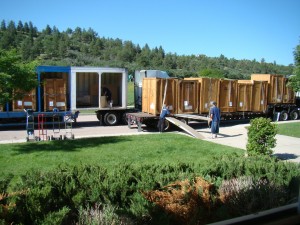 Our stuff actually took up two trucks. Still less than 17,500 pounds!
While the movers were here, the children and I spent part of the morning on our deck.  We watched the gliders from the Air Force Academy fly over us and spotted a deer behind the house.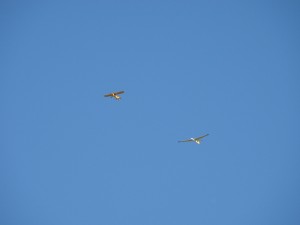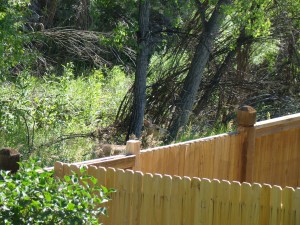 (click the picture to embiggen if you can't see the deer)
And now the days are consumed with unpacking.  It's painful.  Even with a bigger house, it can be difficult to find places for things.  It took me 3 days to unpack the kitchen.  Just unpack – there's still a little bit to put away.  I finally couldn't stand it anymore and moved on to the linen closet and the children's rooms.
And I desperately need decorating help.  More on that later.

Print Friendly
More Mac and Cheese, please!