Our impromptu trip to Disneyland was success.  We were able to pull it off because of the military appreciation tickets that Disney was offering, by staying at the Disneyland Hotel for free with our vacation club points and getting good air fare.  It all just came together like it was meant to be.
We were able to spend a whole day with my grandparents and nuclear-extended family (as opposed to the whole, entire clan). Pumpkin Girl just loves my grandparents house – she says she feels cozy there.  The boys love it, too.  It's hard not to have fun when you are surrounded by love! The next day, my cousin April and her son joined us at Disneyland, which was a nice treat for all the kids.
I won't bore you with all the details, since we seem to have a Disney trip every year.  But here are some of the highlights:
Boo rode on the Haunted Mansion, with his eyes open this time.
I went on the Matterhorn for the first time in years.  I've been pregnant during almost every trip, except the last one and that time the Matterhorn was closed.
In an attempt to curb the souvenir buying frenzy this year, we limited the children to 2 souvenirs each.  We suggested that they keep lists during the week of the things they saw and we'd come back later to buy their top 2 selections.  This worked wonderfully for Pumpkin Girl who divided her list into three parts, ranked by how much she wanted each one.  The plan totally backfired on me when I told Bip to put the stuffed Eve (from Wall E) on his list, and when he talked about it constantly and was very, very sure that that was something he wanted, returned to buy it…and it was sold out.  As in, the whole darn park was out.  I spent 3 days looking in every darn store, asking  cast members, all in vain.  We were successful in finding her before we left, so a catastrophe was averted.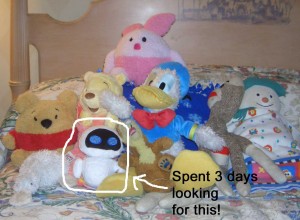 Boo coolly turned down Jedi Training Academy again this year, stating matter of factly that he was already a trained Jedi.  Pumpkin Girl, however, wanted to attend.  When the Jedi master began choosing Padawans, I told her to jump up and down and wave both her arms and make lots of noise.  She was chosen, trained and then battled  Darth Vader. He found her lack of pants faith disturbing.  She defeated him anyway.  She's fierce.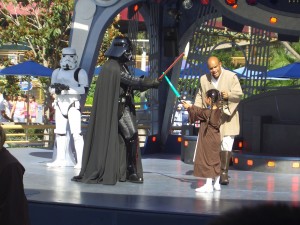 We happened to be at the right place at the right time when the Monorail arrived and asked to ride in the rear compartment.  These private compartments are bigger now, so our whole family fit and we got an amazing view on our way into the park.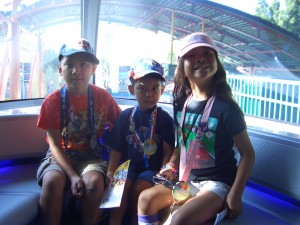 Hopefully, this trip will give us our Disney fix for a while.  Though I hear another cruise is in the plans…

Print Friendly
More Mac and Cheese, please!