Our first Halloween in our new neighborhood was quite a success.  The weather warmed up and the snow melted, though it was a bit chilly once the sun went down.  The neighborhood children were out in force and we only had one set of teenagers without costumes.
We bedecked our house inside and out: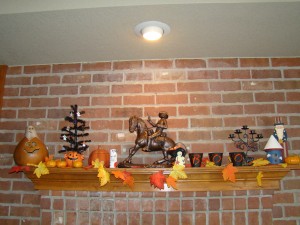 Next year I'm going to figure out a way to stick a pumpkin on that cavalry statue without breaking it.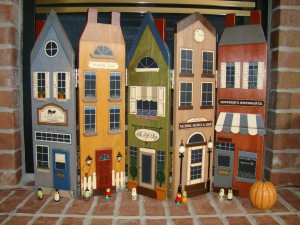 I made this fireplace screen back in 2003 and this is the first time we've had a fireplace to put it in front of!  I put my little trick or treaters in front to look like they're trick or treating at the stores.  Here's a close up: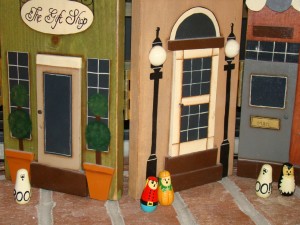 This little guy is new this year and I stuck him on our front porch with a fake pumpkin.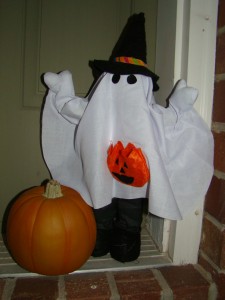 The only bummer this year was that we didn't get a chance to carve pumpkins.  We usually don't buy pumpkins until the day or two before Halloween because in the past, we haven't really had room for them in the house and leaving them outside was an invitation for the squirrels to have a feast.  WalMart had tons, tons I say!, of pumpkins not long ago, but sadly they were piled up outside and froze.  None of the local stores had pumpkins either, so we were out of luck this year.  The children actually didn't mind at all.
Speaking of children…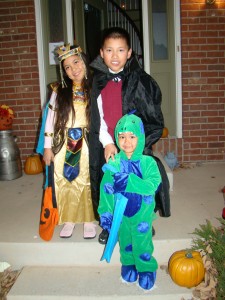 Check it out – after spending boocoo bucks on costumes the last couple of years, we got off easy this time.  Boo was a vampire, dressed in black jeans, white button down shirt, his dad's bow tie, the red vest I knit him a couple of years ago, the cape from his magic kit and a $1 set of vampire teeth.  Bip loved Pumpkin Girl's dinosaur costume from a few years ago, and we found Pumpkin Girl's Cleopatra costume at Marshall's for a song.  Cute and inexpensive!   Doesn't get better than that.

Print Friendly
More Mac and Cheese, please!