…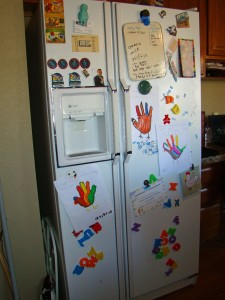 In with the new…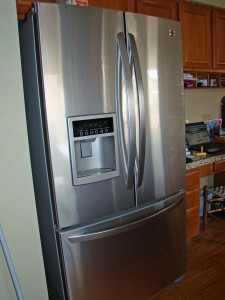 When we first moved in we knew that the side-by-side refrigerator that came with the house was going to be too small.  It wasn't a pressing issue, but we did research and figured out which fridge we wanted when the time came.  Then Thanksgiving week we found an ad from Home Depot and we were able to save $700 on a new fridge!  We're loving the extra room, especially in the freezer.  There was a brief moment of panic when I realized that we forgot to measure the space between the kitchen island and the counter.  I made Philip get up (we were already in bed) and come with me to confirm that the new fridge would actually be able to be maneuvered in.  No worries, it had a couple of inches to spare.
The rest of the appliances in the kitchen are black, but we decided to go with the stainless for the fridge.  I'm glad we did, since we'll be getting a gas range in the next few years and so will slowly go completely stainless.

Print Friendly
More Mac and Cheese, please!