This is for my friend Tami.  The first thing she said when she arrived at our house, after my family finished mugging hugging hers, was that our banister was going to look great for Christmas.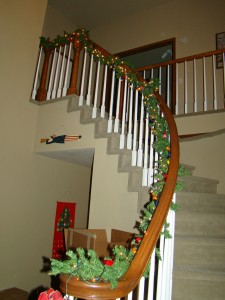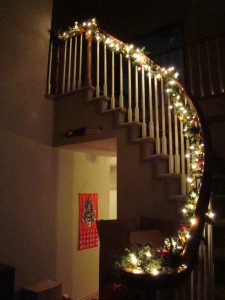 The candy garland is from my childhood.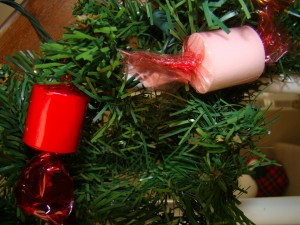 This buffet table is about 90 years old and newly restored to its former glory.  The dining room is too small to fit the whole set, so this piece moved here.  Philip actually came up with the idea to put it here, and I like the weight it gives to the entry way.   Plus, it provides some nice display area.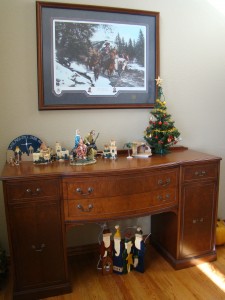 Right now it has our lighted Nativity.  I bought this so long ago that I can't even remember when.  This is the first time we've had room to put it out.  Originally we had Mary and Joseph, the shepherds and animals all set up, too, with Baby Jesus safely tucked away until Christmas and the Wise Men waiting off to the side to begin their journey.  Then one of the children said that maybe we should put Mary and Joseph away, too.  And boom!  It hit me.  Boo has a statue of Mary and Joseph on their way to Bethlehem.   We packed everyone away and put the statue out instead.  Now we are reminded of Mary and Joseph's difficult journey all through the Advent season.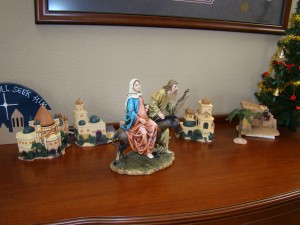 I smile when I see this statue.  Mary's patient, resigned face is so telling of her end of pregnancy state.  I have been pregnant for two Advents, both times just about ready to pop, too.  In fact, my girls were each born at 8 pm, one 3 days before Christmas and one 3 days after.  I am eternally grateful for the comfort of our car instead of having to sit on a donkey.
————————————–
So here's today's Design Delemma.  The staircase seems to need something (during the rest of the year, mostly).  Or does it?  It curves, so it's tricky to hang anything up, but I suppose we could make it work.  My original thought was to put a round table in the space, but with the buffet table we'd just end up zig-zagging around.  So what say you?  Attempt to hang something on the curved wall?  Leave it as is? Here's a different view, capturing the whole hallway.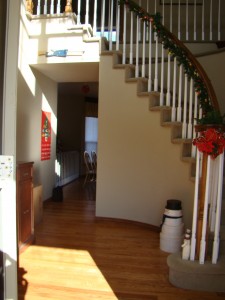 Print Friendly
More Mac and Cheese, please!