So, yes, Tuesday was my birthday.  I'm 40 now, can you believe it?  I can't.
My day was less than stellar.  Not because I turned 40, but just a variety of things failed to be.  It was a mildly difficult day, but since it was my one day to be completely self involved (well, not really), it was not so good.
For one, I had to make dinner.  Boo had to fill a Cub Scout requirement that night, so we couldn't go out.  I slaved over my favorite dinner – Chicken Pot Pie and felt very sorry for myself.
Some good things did happen – one of which was a phone call from one of my 8 Friends Named Jen.  She left me a message in which she sang "Happy Birthday" and wished me well and then at the very end remembered to tell me who she was.  Made me smile.
And my grandparents sent me flowers!  The whole concept of someone ringing the doorbell and handing over flowers was baffling to the children.  "How did 'they' know it was your birthday?" Boo asked.  "The flowers are from Grandma Honey and Papa T.  They were there when I was born," I explained.  I think Boo is still trying to figure out how the flowers got from California to here.
Here's the flowers –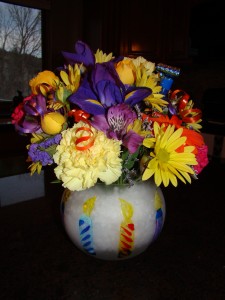 Aren't they pretty?  There are irises, one of my favorite flowers!
My day recovered after a call from my friend Tami, followed by chocolate cake, cards from the children and presents.
This is from my parents: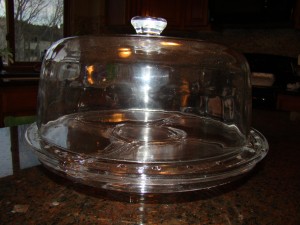 Can you believe I've gone forty years without a proper cake plate? But wait, it gets better…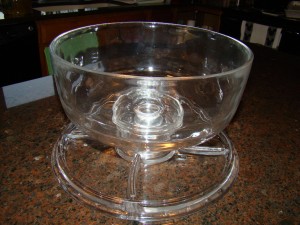 Turn both the base and the lid over and it becomes a punch bowl!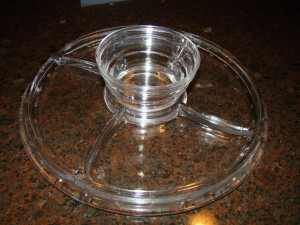 Remove the lid/bowl and it's a chip and dip/veggie and dip server!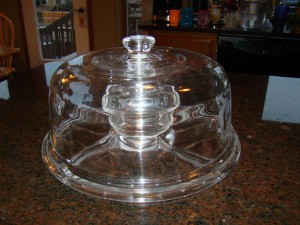 Put the lid back on to keep your veggies fresh.
Sadly, it does not make julienne fries, but it is very cool nonetheless.
From Philip and the children: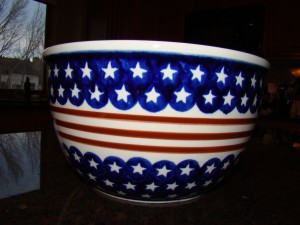 This wonderful Polish pottery bowl in Stars and Stripes.  I'm not really into Polish Pottery, but I love this bowl!  Check out the inside…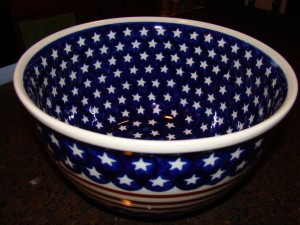 We did go out to dinner on Wednesday, so that was good.  I've been trying to convince Philip that it's not so much a birth day as 40 Days of Celebrations, but he's not buying it.

Print Friendly
More Mac and Cheese, please!