Last week Boo crossed over from Cub Scouts to Boy Scouts. It was bittersweet, not so much in that he is growing up and moving on, but because he did so in a different pack that he started scouting in.  During the slide show of the new Boy Scouts' years as Cubs, none of the pack's pictures contained Boo, and all of Boo's pictures had his friends from D.C.  I was struck by how much I miss that old pack, where everyone knew each other, saw each other almost daily and lived just down the street.  One year, every boy on Boo's soccer team was also in his Cub Scout pack.  Good times.
But we've moved on, both literally and figuratively.
Here's my Cub Scout, one last time…
(Sorry, picture deleted after somebody put it on pinterest without my permission.)
Every boy in his den earned the Arrow of Light – the highest achievement in Cub Scouts, and the only award that can be carried over and worn on the Boy Scout uniform.  A tradition in our Colorado pack is that as each Arrow of Light recipient's name is called, an Eagle Scout  shoots an arrow into a target.
Here goes Boo's arrow.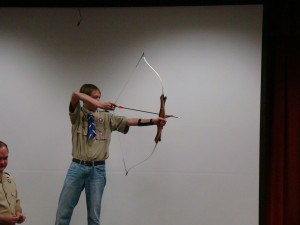 The scouts got to keep their arrow.  Boo's was the only one that hit the bull's eye.
Another pack tradition is the parents making a shadow box commemorating their son's Cub Scout years.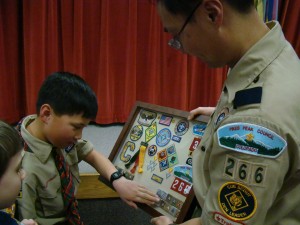 Here it is close up.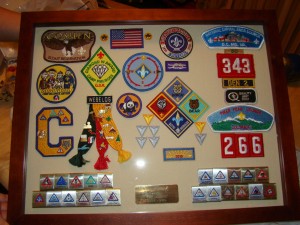 And finally it was time for the boys to cross the bridge into manhood.  Or Boy Scouthood.  Whichever.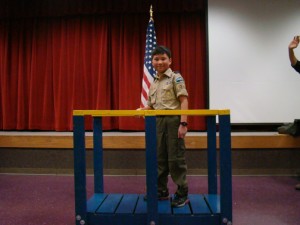 They were greeted at the other end by the boys in their new Boy Scout troop and given their new neckerchiefs and slides.
A new Boy Scout!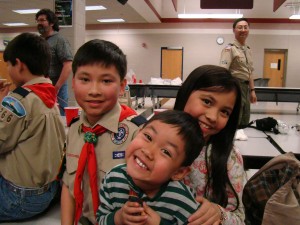 Back at home, Bip and Pumpkin Girl put on his new epaulets.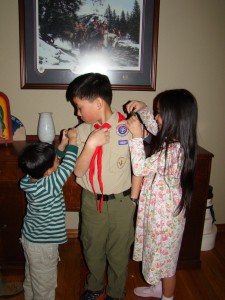 We had one final presentation for him.  The Den Leader from our D.C. pack made all the boys an arrow using rocks, sticks and feathers from their summer camp.  He made sure that Boo got one, too and it arrived right before the Blue and Gold ceremony.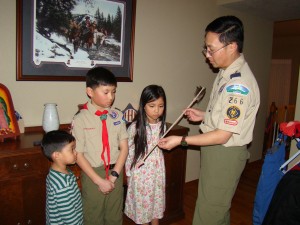 Print Friendly
More Mac and Cheese, please!