KC over at The Cabbage Patch asked me about my butter bell.  I got mine at a kitchen store, but I've seen them in kitchen goods catalogs all the time.  The website for the company is The Official Butter Bell Store.
Here's the lid and the base, sitting next to each other.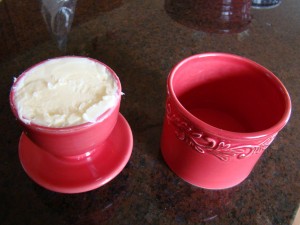 The lid, on the left, holds the butter.  That's the part I usually put on the table at dinner time.  The base, on the right, has just a little bit of cold water in it.  You change out the water every 2-3 days and the butter stays fresh, yet soft.
I have 2 pieces of advice – First, let the stick of butter warm up a bit before stuffing it into the lid.  And Second, wash the lid before adding a new stick of butter.  Otherwise it develops pink spots and a not so pleasant smell.

Print Friendly
More Mac and Cheese, please!