We went on a cruise last week, did you miss me?  My in-laws decided to take their three children and their families on vacation with them, so off we went, all 14 of us.  It was a good vacation, even if we went to the Mexican Riviera in the summer and my sister-in-law looked at my belly and asked if I was having twins.
Here's me and my belly with my two oldest children in Cabo San Lucas.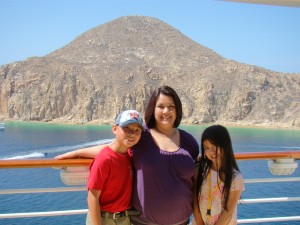 Boo had a spectacularly good time since he stayed in a stateroom with his two uncles and his boy cousin, who is also 11 years old.  We dubbed their room, "The Man Cave".  I felt sorry for their female room attendant.
Pumpkin Girl was thrilled to have a rock climbing wall on board. She even entered the children's rock climbing contest and came in 4th – behind three 11 year old girls! Here she is, on her way to the top: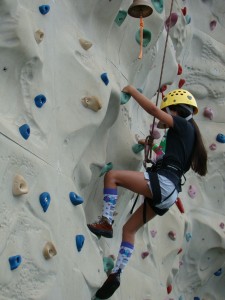 During our days in port, Bip went to the kids' club.  It was actually his choice and it seemed a little strange to leave him behind while we went ashore, but it was a good decision.  It was hot and humid and all we did was walk and shop.  He would have hated it!  Instead, he got to play games and have fun and eat pizza for lunch.
But now we're home and in recovery mode.  Laundry is done and suitcases are put away, now we're trying to get back to normal.  Ballet classes have started back up again and I seriously need to see about getting some school done.

Print Friendly
More Mac and Cheese, please!