We finally got our a/c units put in last week.  What a difference!  We put a spot cooling a/c into each of the upstairs bedrooms and they each have their own remotes to control temperature and fan settings.   The bedrooms are now comfortable retreats while the rest of the house is easily cooled by ceiling fans and open windows.
I'm not doing much blogging lately because with the warmer weather and my growing belly, my feet start to swell if I sit too long without propping them up.  Nothing to worry about, just need to keep them up.  So I've actually gotten more fiber crafting done lately.  I dug through my patterns and cheap, acrylic yarn and made a bunch of little projects.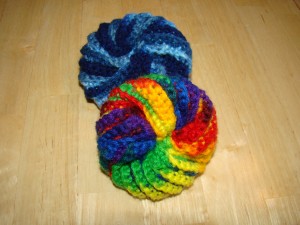 These little guys are kitchen scrubbies, made with the cheapest, scratchiest acrylic yarn I had.   Nothing wrong with inexpensive, acrylic – it can be wonderfully soft and easy to care for,  but normally I only use the extra-cheap stuff for kids crafts.  And when it comes to dish scrubbies, the cheaper and scratchier, the better.  These are really easy to make and they work great at scrubbing the dishes.  The pattern is free and can be found here: Spiral Scrubbies.
I also made these tasty treats –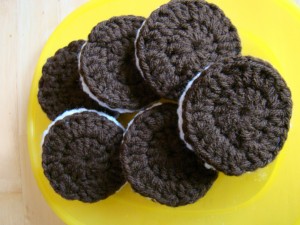 Oreo Cookies!!! At first glance these actually look real and then you feel let down because they are just yarn.  Good thing there aren't any real Oreo's in the cupboard or the fake ones could incite a riot of Oreo bingeing.  But they are incredibly easy and fast to make, too.  I used whatever white acrylic yarn I had stashed away but I had to go out and buy the brown.  I went to Michaels because I kept seeing or hearing ads about their new, expanded yarn department.  Well, apparently by "new and expanded" they mean "greatly reduced, with many of their long-time brands, colors and yarn weights gone."  Not impressed at all.  I did however, find the brown I needed, so all was not lost.  At least I no longer need to travel to a different state to get to my closest Michaels.
Anyway, back to the crochet cookies.  That pattern is also free and can be found here:  Crochet Oreo Cookies.
I've got other tasty treats that are mostly finished, but are waiting for the perfect plastic base and/or to be stuffed.  The fiberfill is w-a-y down in the basement, so hopefully I can make it down there soon.  I'll post pictures when I finally do finish.

Print Friendly
More Mac and Cheese, please!