I just can't seem to stop making these tasty treats!  Do you think it counts as my daily dose of fiber?
First up – a lopsided apple.  I don't know why it's lopsided, but Bip doesn't seem to notice and he's the one who asked me to make it.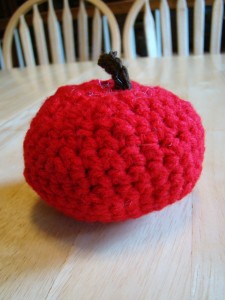 And now, some cherry tomatoes on the vine –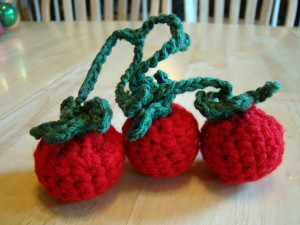 These were requested by Pumpkin Girl who eats cherry tomatoes like chips.
Now for the far less healthy food. Like an ice cream sandwich –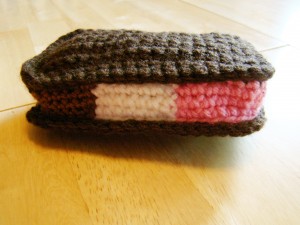 Yum!! Ice cream sandwiches are like my most favorite things ever.  Too bad I'm lactose intolerant.
I'm also a fan of chocolate cake.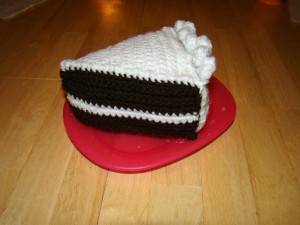 In real life, this is about the biggest, fattest, tastiest looking piece of cake you could wish for.
These projects came from the book Tasty Crochet.  Love this book!! Out of 33 patterns, I want to make 32 of them, which is pretty rare for any kind of pattern or craft book.  At least for me.  You just need basic crochet skills and there is a small glossary in the back if you're like me and can't remember how to double crochet from one project to the next.  The crochet instructions are clear, though a couple of times the assembly instructions made me scratch my head.  But if you look at the picture of the finished project, you can figure out what to do.

Print Friendly
More Mac and Cheese, please!