The hotter it gets, the less I blog.  The less I blog, the more  I knit.  Feet propped up, cold water within reach, watching HGTV and knitting.  Could be worse.  I'm kind of addicted to "Holmes on Homes."  (What's up with all the shady Canadian contractors, eh?)
Philip may be getting annoyed with Mike Holmes and his proper way of doing things because it's costing him time and money.  We're having built-in bookshelves put in our music room.  Nine foot beauties that run from one wall to another.  The thing is, they will permanently and forever cover up a heating vent on the floor and will cause an electronic thing to be removed from a corner of the room.
After countless episodes of Mike telling me how things should be done, I was insistent on finding out if we could just close the vent or if it needed to be rerouted or something.  So I made Phil leave messages for our HVAC guy to find out the deal.
Do you have "guys"?  Now that we own a home, we have guys.  HVAC guys, landscape guys, hardscape guys, a wood guy, a drywall guy and now a cabinet guy.  I'm planning on sticking their business cards in a binder labeled "Guys".
Reminds me of when Bip was a baby and we had this shadow box thing of mini Korean theater masks hanging in the hallway.  We passed by it every time we went into the bedroom.  He liked them a lot and when he started talking, he'd point at them and say, "Heh!  Guys!"
What was I saying?  Oh yeah, the HVAC guy.
So Kevin, the HVAC guy informed us that the easiest and cheapest solution to the soon to be unusable floor vent was to have the cabinet guy just cover it with a piece of sheet metal.  This would be fine and not cause the shelves to heat up and burst into flame, or need to be torn down at a time in the not too distant future to get at the vent and close it off properly.
Then there's this electronic thingy mounted into the corner of the room.  The corner which will soon be covered by the bookshelves, of course.  Phil has dismantled it so now it is just a couple of wires hanging down, attached to a tiny little computer looking panel. He says he can just cut the wires, tape the ends, shove them into the hole in the wall and call it a day.  And you know, it's not that I don't trust him, but yeah, I don't trust him.  Why does the Talking Heads song "Burning Down the House" keep running through my head?
So I'm making him at the very least, call a handyman and have him come over and advise.
He'll probably cut the wires, tape the ends and shove them back into the hole.
So, my whole entire point of this blog post is that it's been rather hot, so I've been propping up my feet, watching HGTV, filling my head with construction horror stories and knitting.  Knitting funny hats for our new baby, to be exact.
Did I tell you we're having a boy?
Well, arriving as he will, at the end of October, he'll need a pumpkin hat.  I've actually made 2 of them this summer, a newborn size and a toddler size for our friend Sam in DC.  Here they both are, with Bip's big-boy pumpkin hat for scale.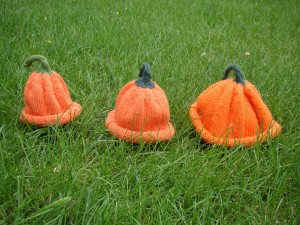 And since we live in Colorado, he'll need some sort of hat for the first 8 months of his life, so I made him a Sweet Pea hat.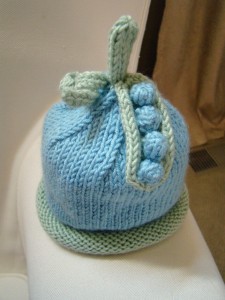 And a funny stocking cap for Christmas time, so he'll look like a right jolly ol' elf.  My model here is Amy, our Bitty Baby.  The hat still needs a ginormous pompom at the end to pull off the look.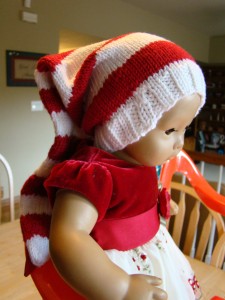 So, in review: heat, Holmes, guys!, hats. Questions?

Print Friendly
More Mac and Cheese, please!