(yes, I know it's late Tuesday, but I started this post in my head yesterday. Go with it.)
Did you have a good Columbus Day weekend? It's an odd holiday, isn't it? Not everyone gets the day off, just federal workers. We were all blissfully sleeping in on Monday when we heard the school bus stop. Philip thought it was the trash man and was about to leap out of bed to set the trash out when I said that the trash gets picked up later in the day. We can't put our trash out overnight because of the bears and our pickup day never moves, regardless of whichever holiday it is.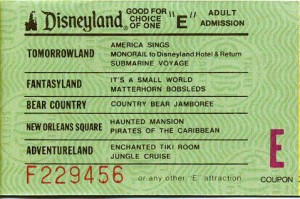 When I was a kid, there was a couple of times when we took advantage of the federal employee discount tickets offered by Disneyland on Columbus Day. This was back when you had to buy ticket books and every ride had an A-E classification. But if you had the special discount tickets, you got this special pass that you just waved at the ticket taker at each ride. The lines were always pretty light on Columbus Day and the weather was nice. We lived about 2 hours away, so it was an easy day trip. We'd show up to work and school the next day, groggy and tired. Good times, those.
The weather took a turn for the cold today. We can't figure out how to turn the heater on and we accidentally turned off the pilot light to the fireplace when we first moved in. We have a new thermostat for the heater and we just can't seem to get it to work. User error most likely, since we had the furnace serviced a couple of weeks ago and I heard and felt the heater go on then. Good thing all the bedrooms are upstairs.
We found out that our deck never had a final inspection 10 years ago. It's a plastic deck – not composite- and was added after the house was built. We found out from neighbors that the original owners had problems with it and had it repaired twice before the company went out of business. It still looked good when we first saw the house, but by the end of that first summer, planks were cracking and beams were warped. We figured we'd just repair it as needed, but that's out of the question now. The whole thing needs to be replaced. Ouch. It's one of the nicest decks in our whole neighborhood, with two levels and lots of room to eat, cook, play and entertain. I think we'll stick to basically the same design, but with some lighting added.
I wonder if Mike Holmes would like to visit Colorado?

Print Friendly
More Mac and Cheese, please!