We're finally getting back to school after a l-o-n-g winter break. I meant to get restarted last Monday, but Certain People Who Won't Be Named went on a snowshoeing expedition. OK – it was Boo.
He and other members of his Boy Scout troop headed out in the wee hours of Monday morning and drove 2 hours to the trail head. Then they loaded up their sleds with all the food and supplies they'd need for the next few days, donned their snowshoes and headed out.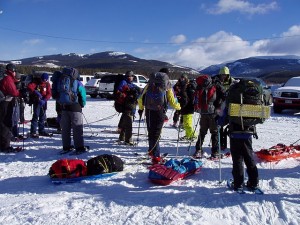 They trekked for 6 miles and ascended an additional 1,000 feet plus in elevation. They stopped at a hut just shy of the Continental Divide. Some of the boys built a snow cave to sleep in – in the negative 20 degree overnight temps!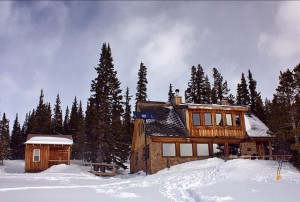 The next day they went sledding. Somebody built a ramp out of snow, all the better to catch some serious air. Or so I'm told.
Here's Boo going airborne –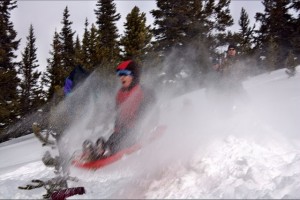 And his buddy, who crashed.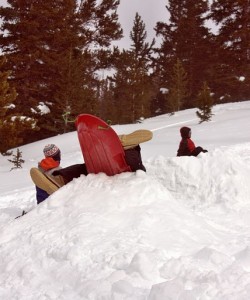 A splendid time was had by all.
It was a tough trip – for a mom staying home. Boo had never been snowshoeing and doesn't have any winter sports experience beyond sledding. He had new hiking boots, which he wore constantly for 3 days to break in, but I worried about his feet. I made him swear that if his feet began to hurt that he would tell an adult and ask for help with moleskin. Blisters would ruin his trip and there was no way to get back to the car at the end except on his own two feet. No sitting out or changing to sneakers. And then there was his backpack. He took all the necessary supplies and nothing more, but that pack weighed 15 pounds.
He did fine, of course.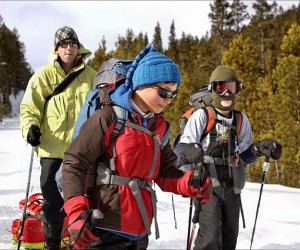 He needed a little help at the very end with his pack and his feet were fine. At the end of three days he returned flush faced and worn out. That evening he was the most subdued that I've ever seen him, except that time we took him to Disneyland and he fell asleep before dinner and didn't wake up until the next morning.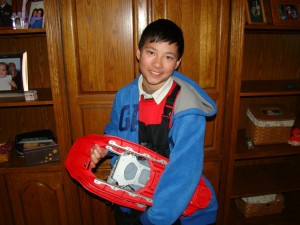 He had a grand time.

Print Friendly
More Mac and Cheese, please!