What if you had a blog contest and no one entered? I'm laughing over this, actually! It's a good thing that the free game was free for me, too.
So now Delta Dawn and I have one thing in common. When I was really little, and I mean really little, that was my favorite song. I used to think that 41 was terribly old. Now, not so much.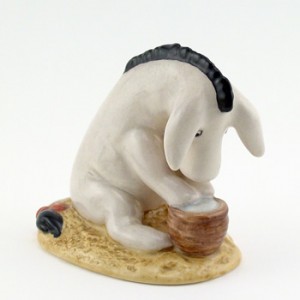 I try to have low expectations for my birthday. That way, I'm not too disappointed. Gee, could I be more of an Eeyore? Though a popped balloon and an empty hunny pot would look good in comparison with what I've got in store today.
Oh yeah, baby – today I get to sit through an hour of mandatory religious education parents meeting. With a baby. Booyah! We have to do this twice a year. I don't know why. The first meeting of the year I can understand. Lots of new information, we've got to be volunteered to sit in on each of our children's classes, we get leaned on to provide stuff for the silent auction fund raiser.
But the second meeting? I don't know. Last year the meeting started with an announcement that the bishop still had not made a decision about changing the age for Confirmation. Then a show of hands as to how many of us had children in the Confirmation class. Nobody. So then we proceeded to discuss the moving of the Confirmation age. For thirty minutes.It was painful. I don't know what was discussed for the next 30 minutes because at that point I was hugging my knees, rocking back and forth in the corner, humming "Delta Dawn". At least in my head.
I could probably get out of today's meeting by just dropping the kids off in the parking lot like usual – buh bye!- then driving away. I can avoid the RE coordinator person who is standing outside the building rounding up parents for the meeting. But I'm such a rule follower that I'll park the car properly and drag little Pipsqueak to this meeting.
Do you think I'll earn time out of Purgatory for this? Probably only if I stop complaining about it!
But it is my birthday and that's a Good Thing! There's a couple of presents sitting on the table and the children made me cards. Surely that outweighs one lousy meeting!

Print Friendly
More Mac and Cheese, please!