Our first full day on the Disney Cruise was a half day at sea and a half day at Key West. Our progress was interrupted mid-morning by an announcement that we had altered our course to intercept a vessel that was in distress.
Not long after that announcement, a second one was made that we had reached the vessel, which could be viewed off the port side, and we'd be waiting there until the US Coast Guard could arrive.
Conveniently, our room was located on the port side and we had a nice porthole. We could easily see the vessel and my first thought was, "Blog fodder!" and I took some pictures. The vessel – it was clearly not a boat- was very close to our room, so I got good pictures. When I zoomed in and showed the pictures to Phil, he immediately said they were Cuban refugees.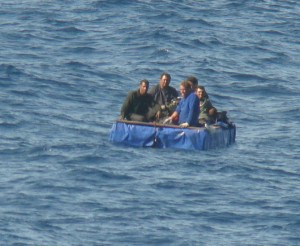 We waited there for about 15 minutes until the Coast Guard arrived. While they waited, the men occasionally waved at our ship. Boo, who was up on the highest deck watching from outside, said that there was a number of people up there with him, including a number of the ship's officers. We were speculating about what the Cubans were thinking, floating out there in ocean. They were almost certainly despairing of reaching land safely, when out from the horizon comes Mickey Mouse himself. God bless America!
But it was Coast Guard that came to the actual rescue.
The refugees were given life vests.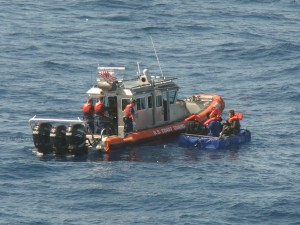 Then they boarded the Coast Guard boat.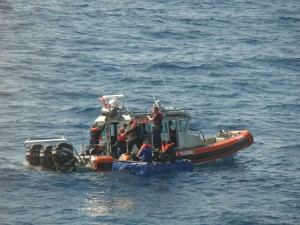 Notice the guy on the far left is getting patted down and that all the Coasties have gloves on.
Take a good look at this picture (click on any of them to get a better look). A square, tarp covered vessel, small rudder, some kind of engine. Think of the desperation that prompted them to this. The secret planning, the willingness to leave everything behind.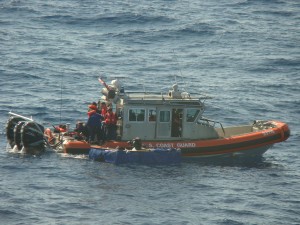 In the end though, the Cubans were repatriated. In fact, they made it home before we did.
Posted on Thursday, 02.10.11

The U.S. Coast Guard repatriated 30 Cuban migrants this week, including five men spotted on a raft on Sunday by the Disney Magic cruise ship. The men were found about 21 miles southeast of Key West. A small Coast Guard crew boat picked up the refugees to transport them to a larger cutter for repatriation. The other Cuban refugees were picked up in separate incidents in groups of seven, 15, two and one. All the Cubans were returned to Bahias de Cabañas.

In addition, five Haitian migrants were returned to Haiti.

"The U.S. Coast Guard policy is to deter and respond to dangerous, disorderly and illegal maritime migration by intercepting vessels that pursue perilous and illegal voyages,'' said Capt. Steven Banks, Seventh Coast Guard District chief of enforcement, in a prepared statement. "We continue to maintain a robust presence of cutters and aircraft throughout the Caribbean to respond to illegal migration and migrant smuggling activities."

Once aboard a Coast Guard cutter, migrants are provided food, water, shelter and basic medical care.

Miami Herald Staff

Print Friendly
More Mac and Cheese, please!